Hanson, Shoemaker pace Bulldogs at league tournament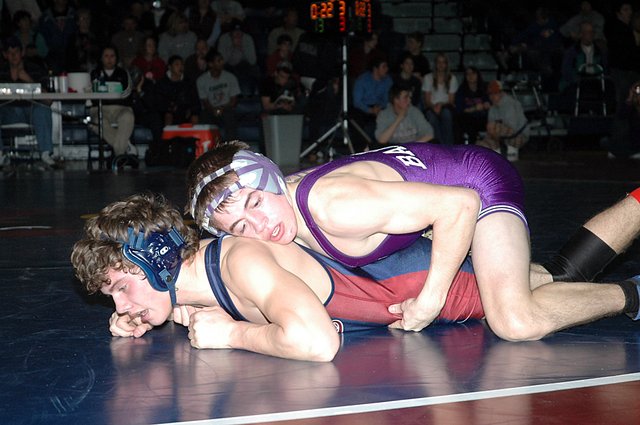 EUDORA — Josh Hanson added to his legacy as a Baldwin High School wrestler here Saturday.
The 135-pound BHS senior dominated his way to his second straight Frontier League championship. Along with freshman Bryce Shoemaker, Hanson led BHS, which had seven placers in the top four and finished in fifth place as a team.
"We didn't wrestle bad and we certainly wanted to finish higher as a team," coach Kit Harris said. "We were missing four starters and we think we could have been up there quite a bit higher with those guys. We still had a lot of great performances, but now it's time to focus on regionals."
Gardner-Edgerton won the tournament with 212.5 points. Eudora (192) finished runner-up, with Louisburg (172.5), Ottawa (135) and Baldwin (133) rounding out the top five.
"I was pretty disappointed that we didn't have a full lineup, because we were really hoping for a league championship," Hanson said. "I guess we'll take what we got."
Hanson began his day with a 5-2 victory over Gardner-Edgerton's Austin Keehn. In his semifinal match, Hanson crushed Paola's Tanner Staats 10-1.
The 135-pound championship came down to Hanson and Eudora's Spencer Board. It wasn't much of a match as Hanson dominated, 13-3.
"Josh is now a two-time league champ," Harris said. "He had to wrestle three tough guys and earn all of his wins. He had to wrestle smart and hard, which is good for him."
Although his coach was excited, Hanson said he could have performed better Saturday.
"I don't think I performed as good as I could have, but at the end I got what I needed, I guess," Hanson said. "I ran out of gas during that last match. I had a couple Monsters (energy drinks) this weekend. That could have done it."
His record is now 35-8 on the season as he chases a 40-win season, which is something only five wrestlers in BHS history have ever done. He also sits in fifth place on the school's all-time wins list with 118 total career wins.
As for now, Hanson's focused on Saturday's Class 4A regional tournament at De Soto High School.
"Almost of all my bracket is at regionals, so it was good to see them today," he said. "I wasn't feeling it too much today, but I'll come back and wrestle better at regionals."
BHS had another league champion in Shoemaker (103 pounds). He went 3-0, winning all three matches by fall. He pinned De Soto's Shane Bunn and Eudora's Grady Salzman to advance to the finals.
In his last match, Shoemaker had a big lead on Louisburg's Cullen Hood before pinning him in the third round.
"Bryce faced one of his key regional opponents and beat that kid in the finals," Harris said. "He wrestled aggressive that match and he wrestled well Saturday."
Heading into Saturday, Shoemaker had a goal of winning the league title. However, he knew he might face Hood, who owns the all-time record of 10-3 versus Shoemaker.
"I did pretty well," Shoemaker said. "I was proud of myself. My dad and I had a talk and he told me to do some soul searching and find out what I'm capable of. He also told me I'm not in a slump, but I've lost some tough matches to some kids ranked higher than me.
"I wasn't feeling too good in the morning, "he said. "I don't know what was wrong with me, but I turned it up last match."
Shoemaker's championship was his fifth tournament title of the year. He improved to 35-4 on the season. He has 27 falls, only one short of the school record of 28 set by Matthew James in 2006.
Sophomore Andrew Morgan finished as the runner-up at 112 pounds. He won a 7-5 match in the semifinals, before falling to the state's No. 3-ranked wrestler, Louisburg's Austin Hood, in the finals.
"In the finals, Andrew wrestled one of the top guys in the state," Harris said. "Andrew can wrestle him a lot better than what he did, but he wrestled hard in that match."
Junior big boys Keenan Coffey (189) and Jesse Austin (285) each earned bronze medals, while sophomore Cody Sellers (119) and junior Colby Soden (125) each placed fourth. In fifth place were freshman Carter Sudja (130) and Skyler Craig (140).
The Bulldogs will compete this weekend at the 4A regional tournament at De Soto. It will begin at 2 p.m. Friday and 10 a.m. Saturday. The top four placers in each weight class will qualify for the state tournament Feb. 26-27 in Salina.
"We will try to get as many qualified as we can," Harris said. "Our top two guys should be seeded high, but we'll have several others who will get a seed but we're not sure where they will be seeded. We'll have some tough wrestling to do."