First half lead propels
BHS

girls to victory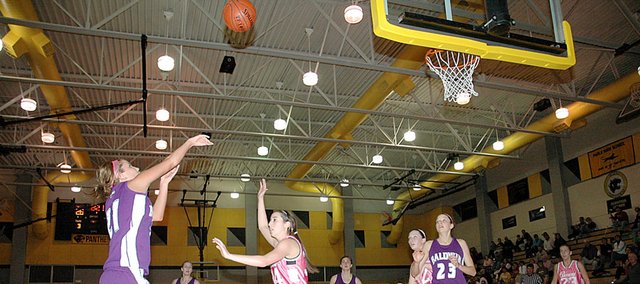 PAOLA — A strong first half here Tuesday night helped the Baldwin High School girls' basketball team separate itself from the home squad.
After winning a tightly-contested Frontier League game Friday against Louisburg, the BHS girls wasted no time in putting Paola away Tuesday. Baldwin took a 17-point lead into halftime en route to a 55-35 victory.
It marked the second time Baldwin has beaten Paola this season. BHS won the first contest in Baldwin City, 54-41. Baldwin is now 11-6 on the season and 3-1 in the league.
"It's been a long time since we've done that (swept Paola)," coach Bob Martin said. "It is very nice. They are a quality opponent, so any time we can beat them is good."
The BHS players were also excited after the blowout.
"We usually lose to Paola, so it's nice to sweep them this season," senior Connor Twombly said. "It's a good feeling. It was surprising we won by so much. We just worked really well together and made some shots."
Much as they did to Eudora last week, the Bulldogs made quick work of the Panthers. They began the game with their highest-scoring first quarter of the season, as they led 20-9.
The second quarter was much of the same as Baldwin continued to dominate. Paola scored only nine points, seven of which were free throws. Six Bulldogs scored during the second quarter, as they entered halftime leading 37-20.
"We came out and played well in the first half," Martin said. "Offensively, we got some easy shots and some shots against their press. We did a lot of good things, especially early in the game."
Twombly agreed, saying the Bulldogs defense created offensive opportunities.
"It really helped give us a nice cushion," she said of the first half. "Then we just held it for the rest of the game, because we usually lose it a bit. We were hitting shots early. We were hitting our outside shots and then we played good team defense. We stopped them early, too."
The second half was much of the same, except the Bulldogs missed a few more shots. However, they continued to shut down the Panthers.
"We weren't quite shooting the ball as well in the second half, but we still handled the ball very well," Martin said. "I thought we got the ball in good spots and were patient on offense. It helped, too, that we had a nice lead on them."
In the third quarter, senior Julie Hill scored her first basket, but she wasn't through yet. She sank a three-pointer in the fourth quarter as she scored a career-high eight points off the bench.
Hill joined her four senior teammates on the court for a three-minute stretch during the fourth quarter. Hill scored all but one of the Bulldogs' fourth quarter points. Freshman Kailyn Smith scored the other late in the game.
"That was the first time that's happened," Twombly said of the seniors playing together. "I was really excited to play with all of those girls, even though we didn't work together that well. It was really nice for a few minutes."
Juniors Ramie Burkhart and Allison Howard led the Bulldogs in scoring once again. Burkhart led all players with 14 points. Howard added 11.
Although Tuesday's contest didn't count toward Baldwin's league record, the coach was still happy to win the team's third straight game.
"It was a good win against a league opponent," he said. "We've got three straight road games and this was the first one. I thought we came out and played really well tonight."
On Friday night, Howard knocked down four three-pointers to lead the Baldwin High girls' basketball home victory. She led all scorers with 18 points as the Bulldogs beat Louisburg 50-45.
Burkhart added 15 points to the victory. The Bulldogs sank six threes as a team Friday. They avenged a 59-50 loss from December.
"That was the first time our class has beaten Louisburg since seventh grade," Twombly said. "That felt really good. It was extra special, because it was a league win, too. That's the game that mattered, not the one early in the season."
Baldwin will play at 6 p.m. Friday at Spring Hill. The Broncos beat Baldwin 56-49 in the championship game of the Top Gun Tournament in Wellsville Jan. 20.
"It's going to be a big league game and it's on their floor," Martin said. "They are a good team. We're ready to accept the challenge. It's going to be a tough game."
Baldwin's final game before sub-state pairings are set will be at 7:30 p.m. at De Soto Tuesday.