BHS

students win state design challenge again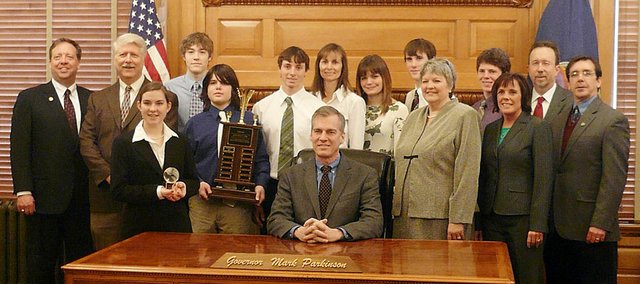 Winning a competition for the second straight year doesn't make the victory any less exciting than the first time. At least it didn't for the Baldwin High School Real World Design Challenge team.
The group of seven BHS students recently completed and won the challenge issued at the state level, which generates interest in the science, technology, engineering and mathematics fields of career. Last week, they were awarded first place for their efforts in the 2010 Real World Design Challenge in the office of Gov. Mark Parkinson.
"We were more confident of winning this year, because we knew what was expected of us, and we knew we had an excellent project completed," Extended Learning sponsor Pam Davis said. "Last year we were totally unsure what they were expecting, so it was much more of a surprise. It was still a very exciting moment when we heard we had won first in the state for the second time."
Baldwin High beat 19 other schools that also entered the competition. Last year, BHS won the inaugural state-level challenge. Junior Carson Barnes, who is the only student to participate both years, enjoyed winning this year as much as the first.
"I was really excited," Barnes said. "I never thought I'd win two years in a row. I learned more this year, knowing what to expect. It's going to be neat to see more teams at nationals this year — they raised the number of states from 10 to 25 this year. I'm looking forward to doing our best at nationals."
The BHS students participating were senior Mason Johnson, junior Brandon Baltzell, Barnes, sophomore Shelby Gregory, freshman Austin Kraus, freshman Carrie Deitz and freshman Mac Halpin. Along with mentors from the Kansas University Department of Aerospace Engineering, the team had help from Davis, as well as parent and engineer Sandy Barnes.
"What makes it (RWDC) different is that we are taking elements that have been mastered by professionals, and it is our job to bring all of those completed elements together to create the finished product," Baltzell said.
The Real World Design Challenge encourages students in grades 9-12 to solve real problems currently faced by the engineering industry while encouraging them to get excited about science and engineering careers. The challenge is designed by professionals from industry, academia and government.
The 2010 state challenge addressed fuel efficiency in aviation. More specifically, the team needed to design a jet engine tail to go with a given fuselage using computer software. The plane had to fly at 37,000 feet at a speed of 400 knots and balance lift, weight, thrust and drive.
"It is always enjoyable to see the real-world application of skills learned in the classroom," remarked Diane DeBacker, Kansas Interim Commissioner of Education. "I am extremely proud of Kansas educators and students as we all work together to meet the demands of the 21st century workplace."
Now in its second year, the Real World Design Challenge has competitors from 25 states and the District of Columbia and expects to have participants from all 50 states next year. The team will go on to represent the state at the national competition in Washington, D.C., next month.
"We finished fifth in the nation last year, but I know we are much better prepared than we were last year, so I am excited about the possibilities," Davis said. "This project could not have been completed without some very dedicated team members that were willing to give up their personal pursuits for a while to benefit the team."
The BHS students will travel to the nation's capital to compete against the other state winners March 26-28.
Baldwin High School journalism student Ann Wallsmith contributed to this story.