State Sen. Tom Holland, Baldwin City Democrat, to announce candidacy for governor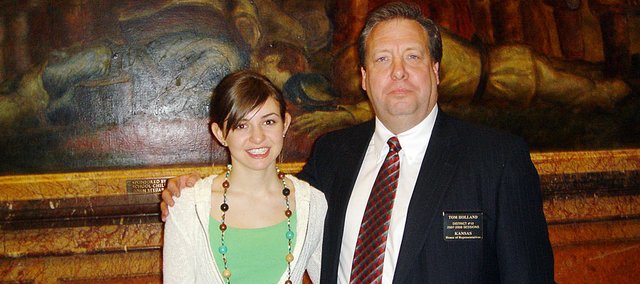 TOPEKA — Last month, state Sen. Tom Holland, D-Baldwin City, said he was thinking of running for governor.
Tomorrow, Holland makes it official with a 1 p.m. news conference.
The site of the news conference is set for the intersection of 11th and Garfield in Topeka, which is where Lowman Hill Elementary School is located. According to a news release, Holland's family and supporters will be at the event.
Holland, 48, will face an uphill climb against the well-financed and presumed Republican nominee, U.S. Sen. Sam Brownback, R-Kan.
Asked about his chances last month, Holland said, "If I made a decision to run, it will definitely be to win."
Holland's entrance into the campaign follows decisions by better-known Democrats to skip the likely contest against Brownback in the November election.
Gov. Mark Parkinson, who came into office when former Gov. Kathleen Sebelius was selected to run the U.S. Department of Health and Human Services, decided not to run for election. Kansas Democratic Party Chairman Larry Gates also considered running but took himself out of contention. Retired businessman Tom Wiggans, who only recently moved to Kansas, jumped into the race with Gates' blessing, but then bowed out after news reports about a legal settlement involving his drug company raised questions.
Holland has a history of being a hard-working campaigner and has defeated two Republican incumbents in his career, a rare accomplishment in GOP-rich Kansas.
In 2008, Holland defeated incumbent Republican Roger Pine for the state Senate seat. In 2002, he defeated incumbent Republican Ralph Tanner for a House seat.
In a news release, Kenny Johnston, executive director of the Kansas Democratic Party, said of Holland, "Tom is a problem solver who has a record of bringing people together."
Holland's senate district includes part of Douglas County, all of Jefferson County and Leavenworth County, except the cities of Leavenworth and Lansing. It covers the northern third of Lawrence and the communities of Baldwin City, Basehor, Easton, Eudora, Grantville, Linwood, McLouth, Meriden, Nortonville, Oskaloosa, Ozawkie, Perry, Tonganoxie and Valley Falls.
Holland is an information technology consultant. He and his wife, Barbara, have four children.