U.S.

56 open house draws crowd to

BESIC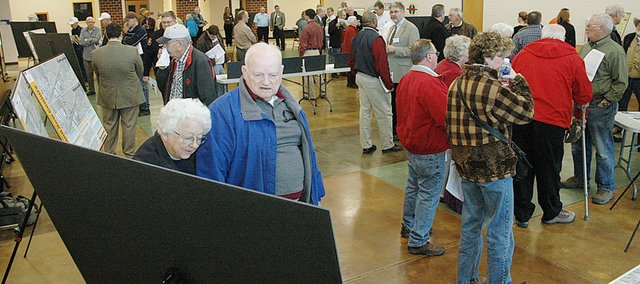 Fears were calmed as a long-range plan for a 22-mile stretch of U.S. Highway 56 were unveiled to residents here Thursday night.
Officials with the Kansas Department of Transportation and members of TransSystems, a consulting firm hired to study needs along U.S. 56 from U.S. Highway 59 to Interstate 35, answered questions during an open house at Baldwin Elementary School Intermediate Center. Their study projected possible needs along the highway through the year 2040.
Their answers left many of the more than 100 people who attended relieved that the proposed Burlington Northern Santa Fe Railroad Intermodal near Gardner won't dump an unbearable amount of diesel truck traffic through Baldwin City. The intermodal is a shipping hub that would take freight from rail cars and place it on semi-trailer trucks for further delivery.
"One thing that surprised me was the small amount of truck traffic that's going to be on U.S. 56 with the intermodal," said Lowell Stansberry, who has lived south of the highway east of Baldwin City for many years.
If the intermodal is built, it could result in as many as 60,000 trucks leaving the facility every day. But only around 1,000 would be headed through Baldwin City, according to projections in the year 2040. Currently, 280 trucks make the trip through the city on a daily basis.
"We took into consideration what the intermodal could mean and 85 percent of that truck traffic will be destined for Kansas City," said Dustin Elliott, of TransSystems. "Only a small percentage — about 2 percent — would be on 56."
Fears had also been raised about U.S. 56 being widened to four lanes and that was heightened by a recent story on the study's findings that showed four lanes coming into Baldwin City. However, those four lanes start at County Road 1900 and end at High Street and are only there if industrial development occurs on that stretch in the next 30 years.
"That's put in primarily for the slow turning truck traffic to the industrial area," said Mark Kenneally, assistant vice president of TransSystems. "The four lane isn't a capacity issue, it's for the industrial area. It's not for the intermodal."
It's one of only three stretches of U.S. 56 that could be widened to four lanes. The others are in Edgerton and Gardner in Johnson County. The remainder of the highway would stay as is, although the areas coming into Baldwin City could be changed to three lanes, the middle lane for making turns, as is already the case inside the city limits.
Keith Browning, director of public works for Douglas County, was pleased with the study's findings and the turnout of people at Thursday's meeting.
"I think it's good. In the rural areas of Douglas County, there are no real changes," said Browning. "In Baldwin City the access point improvements are needed. It won't happen overnight. I think it gives the city, county and KDOT good templates to use.
"The study shows there is not a need for four lanes from I-35 to 59. There is an increase in truck traffic, but not significantly," he said. "It's a great turnout tonight. I'm really pleased to see it."
None of the changes will occur if development of industrial and residential areas doesn't happen. KDOT has no current timetable to implement the study's findings.
"This is a long term vision, jumping out to 2040," said Kenneally.