Three injured in accident at Baldwin Junction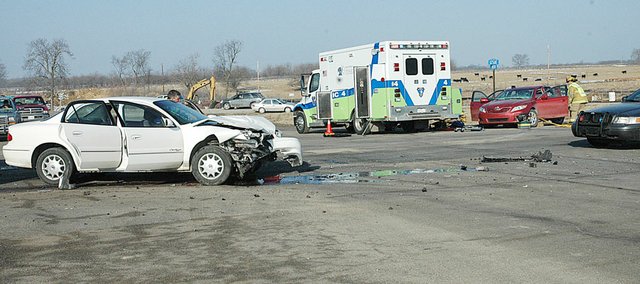 Baldwin City — Three people were injured in a Friday morning accident at the junction of U.S. Highways 56 and 59.
They suffered non-life threatening injuries and were taken by ambulance to Lawrence Memorial Hospital, according to Sgt. Steve Lewis, spokesman for the Douglas County Sheriff's office, which worked the accident.
Albert Aldridge, 65, Pomona, was driving a 2010 Toyota Camry northbound on U.S. 59 and stopped at the four-way stop sign. Marcia Funk, 56, Williamsburg, was also northbound on U.S. 59 in a 2002 Buick Century, failed to stop at the sign and slammed into the back of Aldridge's car, said Lewis. Aldridge's 66-year-old wife Joyce was also injured and was being held for observation at LMH. The two drivers were treated and released, according to a LMH spokesperson.
Funk was cited for failing to stop at a stop sign.