Merle Venable complex a possibility
School board asks for policy regarding naming facilities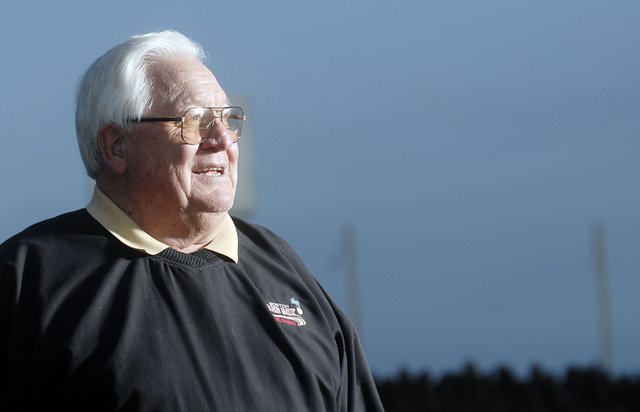 Merle Venable might become the first former Baldwin High School coach or teacher to have his or her name attached to a sports facility.
Baldwin School Board Member Scott Lauridsen briefly introduced the idea to honor his former coach at the January meeting and it was an agenda item Monday night. His proposal calls for naming the BHS soccer field and practice track facility the Merle Venable Sports Complex.
"The idea has been bounced around by former players for a long time," Lauridsen said. "The ideal situation would be if we had a district football field, but we don't and may never, based on our good situation with Baker. This is something that's been on a lot of people's minds for a long time and we're trying to now move it forward. We can't wait until we have a football field out there, because that may never happen. I wanted to do something, if everybody feels it's appropriate."
When Lauridsen first mentioned his proposal, he suggested naming the track and soccer field complex north of BHS after Venable. However, since then he has considered adding the two practice football fields west of BHS to the complex that would bear Venable's name.
Lauridsen considered the idea because Venable was a long-time football coach at BHS. Various people have suggested the football fields should be part of a complex named after the coach.
"That remains to be seen," Lauridsen said. "I think it's open for discussion. In my mind, it would be the whole thing. That's really not the important part, because it can always be changed. The important part is that something viable is named after him. In my mind, it's the whole place, but that could be open for discussion."
The proposal made the agenda Monday night and Lauridsen hoped for a possible approval. The discussion began with School Board President Alison Bauer asking if the board should create a policy regarding naming facilities.
Supt. Paul Dorathy said he talked to the Kansas Association of School Boards about the idea. Then he found several school districts that have policies for this type of proposal and he sent those to the school board members.
"I am in favor of it and I don't have a problem with the idea," said Board Member Ruth Barkley. "However, I don't think the board should do this without a policy."
In the end, Bauer asked Dorathy to create a policy that the board could review next month. Lauridsen's proposal should be reviewed next month and he was fine with that decision.
"I am a proponent of policy, so anytime we do something for the first time, the board wants to approach it carefully as possible," he said. "We will put a policy in place and follow it so that we have something to point to. We don't want it to become a free-for-all. I understand it's frustrating that we never move as quickly as we want, but I understand the need for policy, absolutely."
Venable came to BHS in 1966 and left in 1984, but came back as a substitute teacher for many years. During his 19-year tenure, he was head football and track coach every year. He led the Bulldogs to a state championship in 1981 and state runners-up in 1971 and 1978.
When asked on Tuesday about the proposal, Venable said he hadn't heard anything about it.
"I wasn't aware of it," he said. "I'm very surprised and very honored. I don't know what all it entails, but it's a great idea if it works."
Lauridsen and other former players have created a Facebook group for supporters of his proposal. He read two excerpts from the group Monday night, but later expressed his feelings about Venable.
"Nobody mentions that they learned football from him," Lauridsen said. "They learned all of these other things from him about how to succeed. He always challenged us to be successful in school and life. It was the kids who needed the most help who he identified with. The star players probably got less out of it than the other kids did.
"He cared about you more as a person than a player," he said. "It's just evident by how he's kept in touch with all of his former players. He's more proud of what they've done after they played for him than when they played for him. That's what he loves the most. He cared about us as people and football just happened to be his language. He just happened to be really good at it."