Bulldogs' dual with
SFT

decided between 285-pounders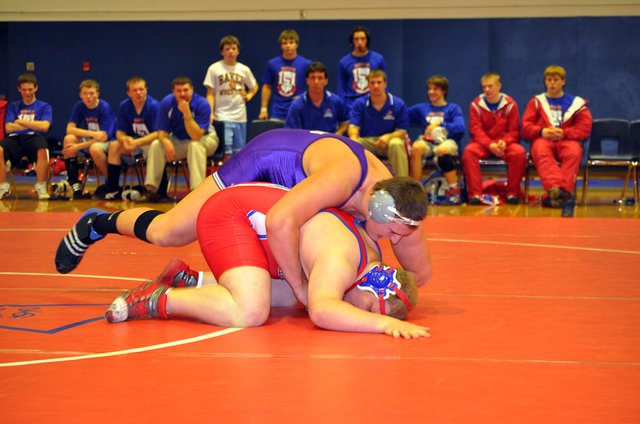 Jesse Austin preserved his team's perfect record in duals this season with a pin last Thursday night.
The Baldwin High School junior wrestler won his 285-pound match as the Bulldogs beat Santa Fe Trail. It was the final event as a full team before Saturday's Frontier League tournament.
"It was really exciting, because every match counted," senior Josh Hanson said. "It was fun and it came down to the last match. We were all pretty excited during the last match. We were pumped up for Jesse's match."
Baldwin beat the Chargers 36-26 to improve to 3-0 on duals this winter. BHS has also defeated Spring Hill and Burlington earlier this season.
"That was an exciting dual," coach Kit Harris said. "That's what wrestling is all about. It came down to the end. We didn't have a full lineup, so we had to step up. We had a couple huge wins that gave us another dual win."
Baldwin led 30-26 heading into the 285 match. A major win or win by pin would have given the Chargers the team victory.
SFT's Ethan Kahle threw Austin to his back early in the match and it looked like the Chargers might win. However, Austin escaped and got back to his feet. Austin later put Kahle on his back and pinned him.
"Jesse had to fight off of his back," Harris said. "They almost won it right off the bat. He showed some real guts and fought off of his back. Then he came back and got a pin to win the match and the dual."
Also winning matches for BHS were junior Colby Soden (technical fall), Hanson (fall), junior Greg Schiffelbein (fall), junior Will Von Bargen (major decision), senior Heath Parmley (fall) and sophomore Colton Bonner (12-8 decision).
Baldwin competed in its final dual of the season Wednesday night at Osawatomie. Since many of the varsity wrestlers have competed in all of the tournaments, they couldn't wrestle Wednesday.
The entire varsity team will be back in action Saturday at Eudora for the Frontier League tournament. It will begin at 9 a.m.
The Bulldogs have high hopes for the tournament. They are setting their goal at the top of the standings.
"We're going to try and get first," Hanson said. "We're really excited. Everyone should be placing high in their weight class."
Baldwin finished fourth at the league tournament last year, despite four wrestlers not competing because of illness or injury. Gardner-Edgerton won last year and Harris expects the Trailblazers to be near or at the top Saturday.
"We're really excited about Saturday," Harris said. "We had a great practice today. They are all hungry and they're talking about what they want to do. These guys are so improved. They've tasted success and they want more.
"We want to win it," he said. "Gardner will be up there, too, but we can definitely be up there with them. They weren't full strength when we wrestled them in December. We are also a lot better team. It should be exciting. This is step one in our championship series. This is what we've been talking about all year long."
It will be the final league tournament for Hanson and Parmley. Both hope to leave Saturday with a league championship.
"I'm going to try and go out with bang," Hanson said. "I'd like to go out with another championship."