BHS

girls crush Eudora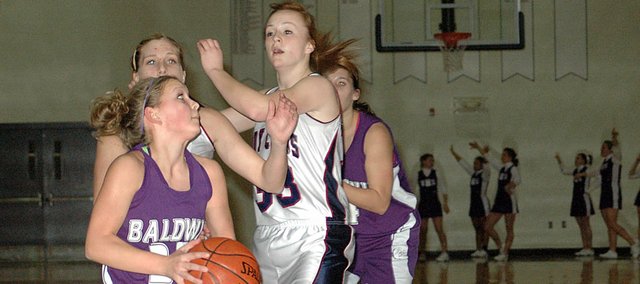 Baldwin High School ended its girls' basketball contest at Eudora Tuesday night during the first 10 minutes.
The Bulldogs jumped out to a 9-0 lead at the end of the first quarter. They expanded their margin to 15-2 early in the second quarter and eventually 23-10 at halftime. The Bulldogs (9-6) kept rolling over their rival as they beat Eudora 51-31.
"It was kind of an ugly win, but you can't complain about a 20-point win," coach Bob Martin said. "It was a league game and it was Eudora, so it's always a big game. I felt like we were in control the whole game."
Tuesday's game was a makeup contest that was originally scheduled for Jan. 8. The game was postponed because of weather. Although it was played a month later, the Bulldogs still enjoyed the rivalry win.
"It was a good win," said junior Allison Howard, who led Baldwin with 11 points. "It's always good to beat Eudora. It's also nice to come back and win our next game after losing at Gardner on Friday. They had some great fans, but we handled the pressure of playing in their gym. We made our free throws tonight, too. That helped a lot."
Baldwin shot often from the foul line Tuesday and made many more than it missed. BHS made 24 of 31 free throws, including 16 of 18 in the second half.
Baldwin made only 13 field goals during the game. Despite the struggles shooting, BHS made the free shots at the foul line.
"It wasn't our best night offensively," Martin said. "We didn't move the ball as well as we wanted to. We also missed some easy shots."
Although the Bulldogs scored only nine points in the first quarter, they dominated the Cardinals early in the contest. They kept the Cardinals scoreless for the first eight minutes.
The Bulldogs kept that lead during the rest of the game. They were never able to expand it until they sank free throws in the fourth quarter.
"We jumped out to an early lead on them," Martin said. "We never quite put them away until the end. I was not really pleased with that. I think we struggled a bit on offense. Our defense played pretty well for the most part, but all in all, it was a good win."
Howard said the game was a typical rivalry contest — filled with numerous fouls and aggressive plays. She was proud of her team for playing tough Tuesday.
"I thought we were really aggressive offensively and defensively," Howard said. "We also rebounded well. It was definitely an aggressive, physical game. There were a lot of fouls on both teams."
Baldwin's coach was pleased with the play of his freshman point guard in the tough environment.
"Kailyn Smith played really well for us tonight," Martin said. "She handled the ball against some pressure and she did some really nice things tonight. She was really aggressive. She's played well all year and has been a big part of our success."
While Tuesday's contest went in Baldwin's favor early, the Bulldogs' trip to Gardner on Friday was nearly the opposite. The Bulldogs fell behind 26-8 at halftime after scoring only two points in the second quarter. They outscored the Trailblazers in the second half, but still lost 47-35.
"We got ourselves into a big hole early," Martin said. "We didn't play well in the first half, but we came back and made a game of it in the second half. I think we made them sweat a little bit."
Baldwin will host Louisburg at 6 p.m. Friday. It will be the Bulldogs' King and Queen of Courts night, along with being a Frontier League contest.
"We are ready to take Louisburg on again," Howard said. "We lost to them early in the season and we are more prepared to play them this time."
The Wildcats defeated Baldwin 59-50 on Dec. 8 in Burlington. It was Baldwin's second game of the season. The Bulldogs are hoping for different results Friday.
"It's a big game for us," Martin said. "It's a league game and at home, so we need to come out and play well. We hope to see how much we've improved since then. I think we are a better basketball team than we were back then. Louisburg is a quality team and it's going to be a pretty good contest."