BHS

boys remain optimistic after three-game skid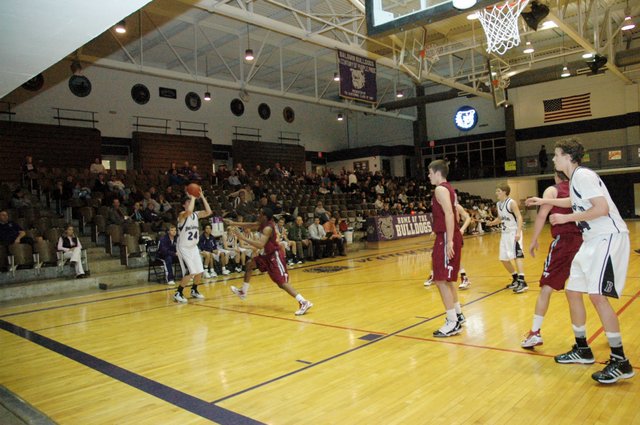 Despite dropping their third straight contest Tuesday night, the Baldwin High School boys' basketball players are staying positive about the remainder of the season.
The Bulldogs fell to 6-10 with their 70-40 home loss to Saint James Academy (11-6). They also lost at Eudora Monday and at Gardner on Friday night. Still, the Bulldogs are keeping spirits high.
"We come to practice every day ready to play," junior Kyle Pattrick said. "We just have to get ready for the next game and try to keep getting better."
Their coach said similar words after Tuesday's loss.
"They are still playing hard," coach Eric Toot said. "It's a tough situation for us right now. I feel like our guys are giving great effort and they've had good spirits at practice, but they're just not being rewarded. You're not guaranteed anything in athletics. All you can do is show up, try to get better and that's what we'll continue to do."
While the Bulldogs' half-court defense remains solid, a lack of offensive production has led to many losses this winter. The Bulldogs have scored 41 or fewer points in seven games this season, all of which were losses.
The past three games were examples of the Bulldogs scoring 41 or fewer points. They scored 35 on Friday (83-35 loss), 34 on Monday (43-34 loss) and 40 on Tuesday. All three opponents have winning records this season.
"We just struggled to put the ball in the hole and that's kind of been our problem all year," Toot said. "It puts pressure on the rest of our game."
On Tuesday, Baldwin hung with Saint James early in the contest. Baldwin trailed by only one after the first eight minutes, but Saint James opened up to 12 points at halftime.
Saint James built its lead to 17 points midway through the third quarter, but Baldwin chipped it back to 12 with Pattrick's second three-pointer of the game. Then the Thunder rumbled and took over the game with a 25-3 run during the next eight minutes.
"We were still in it during the third quarter," Toot said. " We were down about 12 and had some chances. Then we just let it get away from us. I know they scored 70 tonight, but I thought our defense was pretty good tonight.
"What's really hurting us right now are our turnovers," he said. "Teams are getting a lot of easy baskets off of our turnovers. When you see they scored 70, you probably think we played bad defense, but I thought we were pretty solid, to tell you the truth."
Pattrick agreed, saying the Saint James guards had too much speed for the Bulldogs.
"We were kind of careless on some passes tonight," Pattrick said. "They would shoot the gap and go shoot a layup. They have some really quick guards, who put a lot of pressure on us. Even when we crossed half court, they would still have a lot of pressure on us. We just have to be more careful with the ball."
Although the Bulldogs scored only 40 points, Toot and Pattrick both agreed some of BHS players shot well Tuesday. They hope that will give them confidence during the remainder of the season.
"I thought tonight was encouraging, because we hit some jump shots and actually had some kids step up and knock down a couple of threes," Toot said. "That's good to see."
Pattrick also said the Bulldogs shot well from the outside Tuesday.
"Throughout the game, we made a lot of our shots, not all, but more than we have lately," Pattrick said. "We got better shots tonight and moved the ball pretty well. I also thought we played good defense tonight. At times, we had some lapses, but overall it was a good night."
The Bulldogs will host its second-to-last home game at 7:30 p.m. Friday against Louisburg. BHS lost to the Wildcats 57-40 on Dec. 8. BHS will celebrate King and Queen of Courts at halftime of the Bulldogs' game.
"Hopefully, the kids will come out, play hard, really battle and get a win," Toot said. "It will be a fun night. It's something we can look forward to."