Spelling bee winners headed to county contest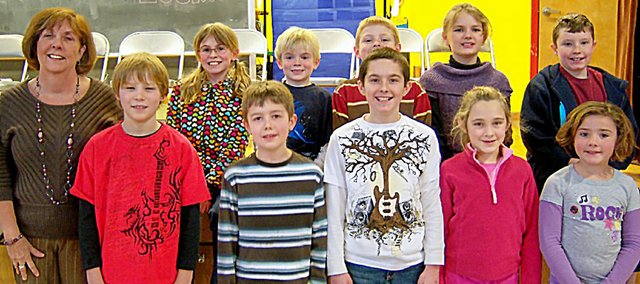 Four Baldwin School District students will be heading to Lawrence on Saturday to compete in the Douglas County Spelling Bee.
The three elementary students and one junior high student won the spelling bees at their schools. Now they will be competing for a chance to participate in the state-wide contest.
In the Baldwin Junior High School spelling bee, eighth grader Nick Joslyn took home the title. He spelled the word "rotisserie" correctly to win the contest. Joslyn had also won the Vinland Elementary School spelling bee in fourth and fifth grades.
"I was a little nervous before the contest, even though I tried in sixth and seventh grade, too," Joslyn said. "I'm excited to go to the county spelling bee."
Each elementary school had a winner and a runner-up who will compete Saturday if the winner is unable to attend. At Baldwin Elementary School Intermediate Center, fourth grader Henry Letner won by spelling "chemistry." Fifth grader Amber Kiewel was the runner-up.
Marion Springs Elementary School's representative will be fifth grader Grace Baxter. Her last word was "orphan." Fourth grader Emily Linder finished second in the contest.
At VES, fifth grader Hannah Spriggs won the spelling bee by correctly spelling "grammar." Fellow fifth grader Paige Leslie was the runner-up.
The Douglas County Spelling Bee will begin at 10 a.m. Saturday at Southwest Junior High School in Lawrence.