Parks Master Plan eyed by city council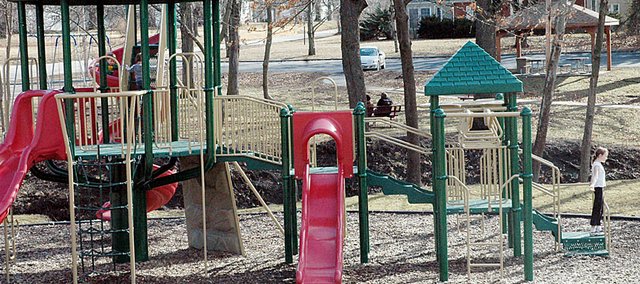 A Parks and Trail Master Plan spanning the next five to 25 years was unveiled to the Baldwin City Council at Monday's meeting.
Darron Ammann and Wendy Van Duyne of the firm Bartlett and West gave the 45-minute presentation on their recommendations, which they said reflected what a community survey and other input had said residents wanted. That's hiking and biking trails, improvements to current parks, such as adding restrooms and parking, as well as other long-term improvements.
Of course, those recommendations came with a price tag, or at least estimates from the firm. For example, Phase 1 of the pedestrian trails is $685,000 — of which the city has applied for a grant to cover 80 percent — with Phase 2 estimated at $1.5 million and Phase 3 $2 million. Phase 3 wouldn't come along until year 15. But during that first five years, the plan recommends $600,000 in park improvements.
Ammann said the plan presented was a draft, although it is 80 percent complete, and they were seeking additional input from the council and residents before putting the finishing touches on it. He also said it was a working document and could be tweaked as the years go by.
"We have given you nine months of work in 45 minutes. We know it's a lot of information," said Ammann. "We commend you for taking this first step in planning. You're ahead of the curve."
Mayor Ken Wagner thanked the pair for the presentation and made note of what they'd said about how funding grants can't happen unless there's a plan.
"I like the idea of a plan," said Wagner. "Some of those figures (costs) scare me. I think there are several benefits to having a plan."
He also told the council one item to remember is the recently passed quarter-cent sales tax designated for quality-of-life projects, which is new. Voters approved it, along with continuing a half-cent sales tax that's been on the books since 1992 for infrastructure improvements.
"I think it's important for this governing body to do something soon to show the people that voted for the quality-of-life sales tax," said Wagner.
The recommendations were:
Hiking and biking trails to tie everything together.
Restroom facilities at all parks.
Increased parking at all parks.
Provide practice fields for youth sports.
Enhance amenities at exiting parks.
A community center — eventually — located at one of the existing school district locations.
Develop and acquire additional neighborhood parks as Baldwin City grows.
As for costs associated with the five-year plan, based on the above recommendations, they were estimated at:
Phase 1 of pedestrian trail, $685,000.
West Park improvements, $120,000.
FireTree Park improvements, $200,000.
Grove Park improvements, $170,000.
Kappelle Park improvements, including community meeting shelter, $50,000.
Allen Park improvements, $60,000.
Oak Grove Cemetery improvements, $100,000.
Phase 2 pedestrian trail, $1.5 million.
Update facility study, $10,000.
Community-wide assessment of playing fields for youth, undetermined.