Bulldogs place eight wrestlers at
BIT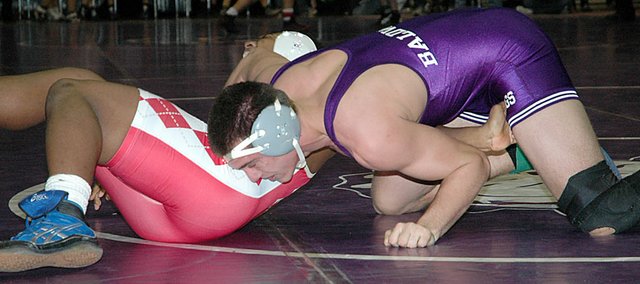 Photo Gallery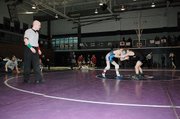 BHS home wrestling tournament
The Baldwin High School wrestling team placed eight Bulldogs in the top four of their weight classes as the team finished fourth out of 12 teams at the Baldwin Invitational Tournament.
A home tournament might have been just the answer for the Baldwin High School wrestling team, who may have had its worst meet Jan. 23 at Holton.
After the tournament in Holton, BHS coach Kit Harris said his squad didn't improve from the previous week. That was the first time all season he could remember that happening.
One week later, the Bulldogs hosted the Baldwin Invitational Tournament and results were better. Harris was much happier following Saturday's home tournament.
"I'm happy with our performance," Harris said. "Everybody had some great matches. Everybody also had some bad moments, which is good because it gave us some good things to work on this week. I really liked the team's camaraderie. Everybody was supporting each other."
Senior Josh Hanson agreed with his coach, saying this year's squad enjoys rooting for each other during every match.
"That's the best part," Hanson said. "Our team is really turning it on late in the season. This team has had the best camaraderie of any team I've been on during my four years."
The teamwork paid off for the Bulldogs as they finished fourth in the 12-team event. The Bulldogs scored 215.5 points. Abilene won the tournament with 306 points, while Oak Park (Mo.) finished runner-up with 297. Lansing placed third with 240.5.
All three teams above Baldwin are ranked fourth in their respective classes in Kansas and Missouri.
"A year ago, I would have never thought this team would place that high," Harris said. "We beat one state-ranked team in Prairie View. It just shows how much we've improved from a year ago."
Baldwin beat fifth-place Prairie View, which is ranked eighth in Class 4A, by 29 points Saturday. The Bulldogs placed eight wrestlers in the top four of their weight classes to help them finish fourth.
"It was a lot of fun to wrestle at home," junior Keenan Coffey said. "A lot of people came and supported us. I want to thank the fans for that. I can't wait for next year's BIT."
Freshman Bryce Shoemaker continues to lead the Bulldogs. The 103-pound wrestler finished the day with a 4-1 record by pinning four opponents. He lost the 103-title match to an undefeated wrestler from Oak Park.
"His semifinal win was really good against a ranked guy from Abilene," Harris said of Shoemaker. "He may see him at state. Bryce is continuing to have a good season."
Hanson (135), junior Greg Schiffelbein (140) and junior Jesse Austin (285) each finished third with only one loss on the day. Four Bulldogs placed fourth. They were sophomore Cody Sellers (119), junior Colby Soden (125), senior Heath Parmley (160) and junior Keenan Coffey (189). Sophomore Andrew Morgan also finished fifth.
"I wrestled pretty good Saturday, but there is a lot of room for improvement," Coffey said. "I was happy to place fourth, but I could have done better. I just need to be conditioned better and improve my bottom work."
The Bulldogs' coach was impressed with several wrestlers, who have been improving all season.
"Keenan had a great tournament," Harris said. "He had a nearly perfect day, except he got ridden out for about four minutes during his last match. He was really upset about that. Jesse also had a good tournament. They are both starting to really improve.
"Cody also had an awesome tournament, until he got turned and pinned during his last match," he said. "He was winning until that happened. He was mad about that. He wrestled great all day, except for the last match. He now has a winning record and has been making great strides."
Baldwin will compete in two duals before the Frontier League Championship Feb. 13 at Eudora. BHS will travel to Santa Fe Trail to compete at 6 tonight and then to Osawatomie Wednesday. That dual will start at 5 p.m.
"This is the time of the year to focus on some details," Harris said. "Then we will get into the important part of our season. We like to take off this weekend, so we can rest up and prepare for the final three meets."