Bailey to be honored at annual Chocolate Auction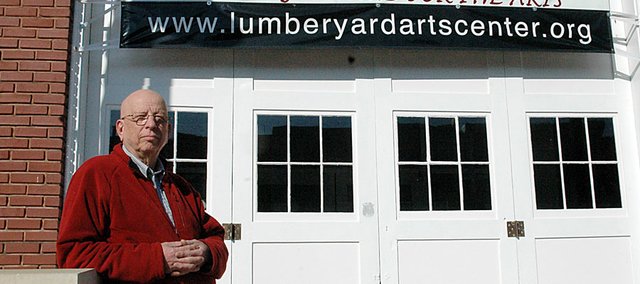 For the second time in a four-month span, retired Baker University professor Walt Bailey will be honored at a community event.
In October, Bailey was chosen to be the grand marshal of the 52nd annual Maple Leaf Festival. On Sunday, he will be the honored artist at the Baldwin City Arts Council's 22nd annual Chocolate Auction.
"It's been a year of surprises," Bailey said. "Someone told me that my service was being honored, but I'm not sure that's anything spectacular. Then someone tells you something like that and it comes as a surprise. It's been an odd double whammy."
The Chocolate Auction will begin at 1 p.m. Sunday with the silent auction. The annual fundraiser is being held at a new location this year. It will be held in the Lumberyard Arts Center, located at 718 High Street. The silent auction will start at 1 p.m., with the live auction beginning at 2 p.m.
"We are also excited about our new venue at the Lumberyard Arts Center for the Chocolate Auction on Sunday," said Tom Wilson, BCAC president. "The Lumberyard Arts Center gives us the ability to extend our displays of donated work in a beautiful setting and gallery space."
For each of the past several years, the BCAC has honored someone from the community. Last year, nationally-known artist and longtime Baker University professor Tom Russell was the honoree. Bailey was happy for Russell a year ago, but surprised he was chosen this year.
"I know Tom Russell was honored last year and I was very pleased to see that," Bailey said. "I just wasn't sure that was a long-standing practice. I think it's a new thing to honor artists. Saying that, I was very pleased and surprised I was chosen."
Bailey, who is a photographer and former faculty member at Baker University, was inducted into the Baker Faculty Hall of Fame in May 2008, becoming the 24th inductee. He is only the eighth Baker alumnus to receive this honor. He taught drawing, painting, photography, stained glass, Renaissance art history, Modern art history and foundation studies in visual art all during his tenure.
"We honor a person who has made an impact in the community in the fine arts area," Wilson said. "Walt is being honored for all his contributions over the years."
Bailey has been attending the annual event for many years. He remembers when the event was held in Baker's Harter Union cafeteria before being moved to Baldwin High School. He is looking forward to being honored Sunday.
"I've had a lot of fun making things for it, especially my chocolate chili," Bailey said. "(Wife) Barbara and I have both made lots of things for the auction. It's really nice to see how much hard work people have put into it. I like the idea of having the auction in the lumberyard. Jim and Diane (Niehoff) have put so much work into that building and they should be honored at one of these events."
The proceeds from the Chocolate Auction go toward funding the four annual $1,000 fine arts scholarships. The scholarships are renewable for up to four years for area students studying fine arts after high school.