Kansas texting law takes full effect Jan. 1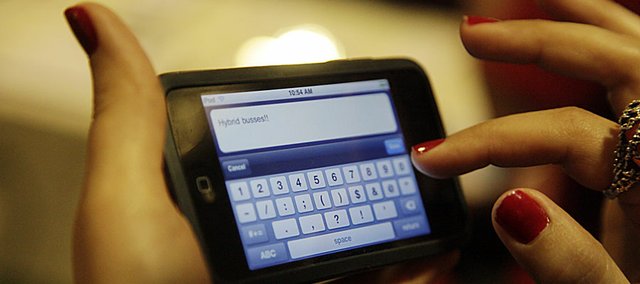 Come Jan. 1, Kansas motorists might want to think twice before picking up a cell phone to send or read a text message.
If they are spotted by a law enforcement officer, that action could cost them a $60 ticket and in Douglas County another $93.50 in court fines.
Following a six-month warning period, the state's ban on texting goes into effect at the start of 2011.
"It will be enforced like any other Kansas law. You see it, you take care of the problem," said Lt. Robert Baker with the Kansas Highway Patrol.
Technically, the state law extends beyond texting to instant messages and e-mails. The law states that drivers are prohibited from using a "wireless device to write, send or read a written communication" while driving.
Exceptions are provided to law enforcement officers and emergency service personnel using their phone on the job. Texts messages also can be read for emergency, traffic and weather related alerts, and for receiving information related to operating or navigating the vehicle.
Texting is allowed if it would prevent injury to a person or damage to property and to report a crime.
Baker isn't concerned that law enforcement officers will have trouble discerning when a driver is sending a text message versus when they are dialing a phone number.
Someone making a phone call looks down for just several seconds. Drivers who are texting can be looking at their phones for 30 to 40 seconds.
"It is very obvious when you are driving down the road," Baker said.
For those who claim they were dialing, not texting, Baker said they can always contest their ticket in court.
Over the past several months, Baker has written his share of warnings to texting drivers.
"They sit there and apologize. It's just that folks have so many things going on at one time, but they don't realize just how dangerous it is," he said.
If someone has to send or read a text message, Baker recommends they pull over to the side of the road to do it.
Kansas Department of Transportation spokeswoman Kim Qualls said the law couldn't come at a better time. With winter weather at hand, drivers need to be focused on the road, not their phones, she said.