Fall teams highlight sports year in review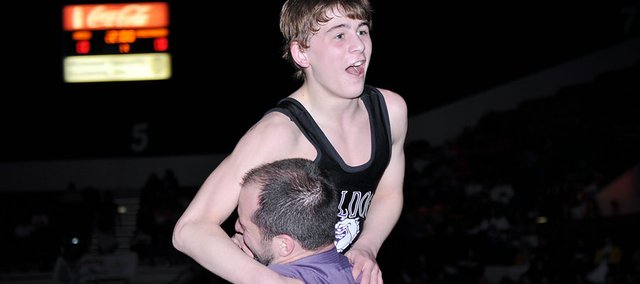 Baldwin High School won four Class 4A state championships during 2010, Baker University women's soccer made history and there was a major coaching change for the Wildcats' last spring.
Of that worthy list, the top sports story of the year and that was the BHS girls' track state championship.
Here are the Baldwin City Signal's top 10 sports stories that follow the track title.
1. Cross country teams sweep state … again
It was another banner year for coach Mike Spielman and his Baldwin High School cross country teams. He won his 16th and 17th Class 4A state championships in October.
The BHS girls' team won its fourth-consecutive state title. The Bulldogs didn't run their best race of the season, but they still scored 58 points and beat the second-place team by 47 points. A trio of Bulldogs earned all-state honors by finishing in the top 20.
On the boys' side, it was the first state championship since 2005. That was the last year of eight-straight titles for the Bulldogs. They knocked Mulvane from the top spot after it won three-straight titles.
Baldwin returns three boys from the state team, but they are the second, third and fourth runners on the team. The girls' team will bring back six of its top seven runners next fall, so 2011 might be another trophy year for BHS.
2. Star freshman brings home wrestling gold
Bryce Shoemaker entered Baldwin High School with high expectations surrounding him. He was projected to be the next great wrestler for the Bulldogs after the Callahan brothers graduated in 2008 and 2009.
Shoemaker didn't disappoint in his first year. He capped of his freshman campaign with 103-pound state championship in late February. It was Baldwin's first wrestling champion since Kevin Callahan in 2008.
Shoemaker nearly lost his second match of the tournament, but he survived to win 2-0 in overtime. He won his semifinal match 8-0, and his finals match was a tough 7-4 victory. Shoemaker finished the season with a 42-4 record.
3. Wildcat women make school history
Baker University's women's soccer team ended its season winning six of the final seven contests and making history in the process. It was a season that won't soon be lost on any Baker fans.
The Wildcats hosted Lindenwood in the opening round of the HAAC playoffs. They won 4-3 in overtime. In the next round, the No. 4-seeded Wildcats defeated No. 1-seeded Graceland in penalty kicks, after losing to the Yellow Jackets just eight days prior.
In the Heart of America Athletic Conference championship, Baker beat rival William Jewell 2-1 to earn a spot in the NAIA championship tournament. The Wildcats won 2-1, 2-1 and 5-2 to advance to the semifinals. They lost 3-1 in the semifinal round, but they were welcomed back to a crowd at a spirit rally Dec. 7.
4. Bulldogs back on track with single wing
After a disappointing 2009 campaign, Baldwin High School's senior football players were determined to have a better final season. Their hard work paid off as the Bulldogs finished 10-2 this fall.
Baldwin rolled over highly favored Paola in its opener and continued to beat opponents all season. The Bulldogs returned to the single wing offense that led them deep in the playoffs in 2007.
Their season ended on a sloppy, muddy and cold night in Paola. It was a difficult loss, but their successful season was the talk of Baldwin City during the fall.
5. Ballard replaces Weaver as Wildcats coach
Baker University's longtime men's basketball coach Rick Weaver retired after 25 years at the helm after the 2009-2010 season. Baker hired Brett Ballard in late March as its new coach.
Ballard played basketball at Kansas University and graduated from KU in 2003. He spent the last seven years as a member of KU coach Bill Self's staff, the final two as director of basketball operations.
Several KU dignitaries, such as former players, attended the press conference at Baker. Two KU basketball players also attended Ballard's first summer youth camp.
6. Baker women win cross country HAAC crown
Led by freshman Lauren Jaqua, Baker University placed seven runners in the top 20 and captured the Heart of America Athletic Conference women's cross country championship in November at the Baldwin City Golf Course.
The Wildcats finished with 33 points to edge William Jewell, the team runner-up with 44 points. It was the first HAAC title for Baker since 2000. Baker's Zach Kindler was honored as the conference women's coach of the year.
7. Hanson completes career with state medal
Baldwin High School's Josh Hanson tried to become an all-state wrestler for three years. It wasn't until his final try as a Bulldog that his dream became a reality.
Hanson finished the state tournament with a 4-1 record. His only loss was in the semifinals, and it was a match he nearly won. He came back on the second day of the tournament and won both matches to place third in the 135-pound bracket. He now wrestles at Baker University.
8. Bulldogs send five to girls' state tennis
In October, the Baldwin High School girls' tennis squad qualified five of its six players for the Class 4A state tournament. It was the highest number of qualifiers in several years for the Bulldogs.
Kara Protasio was the lone Bulldog to qualify in the singles action. She went on to place 10th in the state to end her senior season.
In doubles action, BHS sent both teams. The two teams were Michaela Krysztof/Alison Berg and Hayley Schwartz/Kara Hoegerl. It was the first time qualifying for state for any of the doubles members.
9. BJHS track, field teams compete well at league
Baldwin Junior High School's track and field teams broke one school record, tied another, won 12 events and returned home with one team championship at the Frontier League meet in May.
The seventh-grade girls team won the meet. The Bulldogs won the 1,600-meter relay, which was the final race to pull ahead of Louisburg to win the meet.
Ethan Hartzell and Morgan Lober led the eighth-grade teams with three individual victories apiece.
10. Changes to Frontier League, Heart of America
The Frontier League officially changed for the third time this decade. In May, Gardner-Edgerton competed in its last Frontier League events. The Trailblazers moved into a league with other Kansas City metropolitan school districts.
Baker University's conference will also be changing. Lindenwood and William Jewell will be leaving the Heart of America Athletic Conference during the next two years.