Completion of
U.S.

Highway 59 among projects set for 2011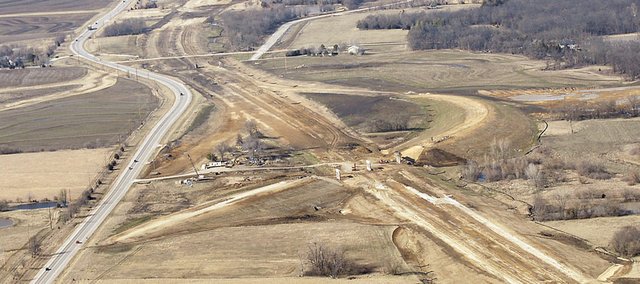 Many of the road construction projects that had Douglas County motorists sitting in traffic this year will return in 2011.
The Kansas Department of Transportation will continue working on the massive project to build a new highway between Ottawa and Lawrence. Right now, crews are still building culverts and completing grading work on the road that will be the new U.S. Highway 59 between Lawrence and the Franklin County line.
Come spring, paving should start, KDOT spokeswoman Kim Qualls said. The project should be finished by 2012.
Short lived will be the joy that many commuters had when construction ended on a three-mile stretch of Interstate 70 this fall. Starting in March, crews will return to I-70 to begin reconstruction of a three-mile stretch of road just east of the Lawrence service area.
The entire $23 million project funded by the Kansas Turnpike Authority replaces six miles of 50-year-old concrete road with a 10-inch rock base and 18 inches of asphalt.
The first half of the project began last summer and ended in November. Crews rebuilt a three-mile stretch of road from the East Lawrence interchange to the Lawrence service area.
The road closure, which squeezed four lanes of traffic down to two, translated into major traffic headaches, especially during busy summer weekends and at rush hour on Friday afternoons.
Those traffic delays could return with construction.
"It's another busy summer," project engineer Rex Fleming said.
The KTA also expects to finish up the $130 million Kansas River bridge reconstruction project in late fall 2011. In November, the construction project entered its third phase when eastbound traffic was moved onto the new Kansas River Bridge.
Crews continue to remove segments of the old bridge. They still need to construct a large concrete median and build overhead trusses for signs.
The biggest roadwork project the city of Lawrence anticipates tackling in 2011 is already under way. In mid-December, the city started work on a $4.2 million project to upgrade a stretch of Kasold Drive from Clinton Parkway to 31st Street.
The yearlong project will turn Kasold Drive into a four-lane road with center turning lanes and medians. Upgrades to utilities will also be made.
Throughout the project, traffic will be narrowed to one lane in each direction and have a 20 mph speed limit.
"It's definitely our biggest project," public works director Mark Thiel said.
As for other major projects, KDOT will know more in February, Qualls said. That's when the state agency will reveal what projects will be funded under the $8 billion transportation bill the Legislature approved last spring.
Among the big-ticket items up for potential funding is the South Lawrence Trafficway, a $188 million project that will build a four-lane highway from the existing South Lawrence Trafficway at U.S. 59 seven miles east to Kansas Highway 10.
This fall, KDOT held workshops throughout the state to gather community input on what projects should be funded. The need for the SLT received much support.
Even if the SLT makes the cut, funding wouldn't become available until 2013.