Baldwin High cross country continues winning tradition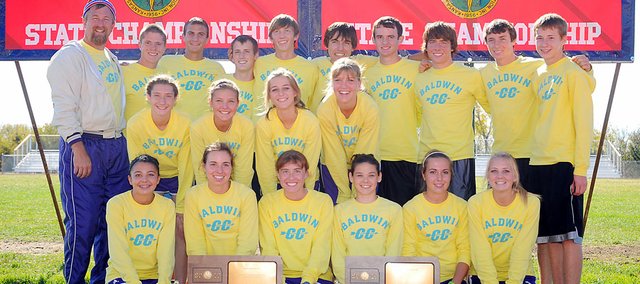 It's tough to neatly sum up tradition, but in nearly every storied program — regardless of sport or level — there is one constant: winning.
And over the years, Baldwin High cross country has done quite a bit of that.
Under coach Mike Spielman, in his 19th season at Baldwin, the boys and girls cross country teams have won a whopping 17-combined Class 4A state championships.
Last fall at state, the Baldwin cross country team finished off their third sweep under Spielman: the girls team wrapped up their fourth straight state championship, and the boys, who hadn't won since 2005 — the last year of an eight-in-a-row stretch — reclaimed the familiar bit of hardware.
"Its pretty special," Spielman said of this year's total effort. "We've had a great group of kids that have bought in all along. Part of it is once you get a tradition started, the next group doesn't want to let it down."
There's that word again, though Spielman can't put his finger on where it stemmed from exactly.
"Its kind of fun for me," said Spielman, recently named Journal-World All-Area boys and girls cross country coach of the year. "Because each group (of kids) is different."
And this year's bunch was as good as Spielman has ever had.
Senior Tony Weiss (Journal-World All-Area boys CC athlete of the year) led the boys with a second place finish at state, which capped off an outstanding career in which he placed in the top-four at state all four years.
The other runners on this year's team were: freshman Ethan Hartzel, who finished sixth at state, juniors Tosh Mihesuah and Brian Wright, and seniors Brandon Baltzell, Kyle Garcia and Joey LaBuda.
After this year's state title, senior Heather Karlin — who medaled all four years at state — became the first girl in school history to win at state all four years.
The rest of the girls have a great shot to join that club by the time their high school careers are up, too.
Junior Elizabeth Sigvaldson (Journal-World All-Area girls CC athlete of the year), took seventh at state and has medaled all three years so far, and sophomores Sienna Durr and Kaitlyn Barnes have medaled in each of their first two seasons.
Freshman Katie Jones was one of Spielman' top runners for most of the season, and though she was pushed down in a pile-up at state, still finished in 25th.
Throw in freshman Hannah Hutton and junior Carol Whaley, and Spielman sees no reason the girls can't keep that winning tradition rolling next fall with a fifth straight title.
"Especially now that the girls that have won some in a row," Spielman said. "They don't want to be the group to break the streak."
Perhaps that's where the years of consistent success stems from, regardless of the athletes Spielman has had at his disposal.
Following their eight-straight title run, the boys had gone without one for a few seasons while the girls began to go on their tear.
"During that time the boys were starting to get jealous," Spielman said.
According to Spielman, the work ethic on both sides, whether in-season or not, has been outstanding.
"We have a few kids that (will play) basketball (this winter), and most of the rest of them do some running on their own," he said.
Some of them then join Spielman in the spring, where he also serves as Baldwin's boys track and field coach, but it's during the summer where the commitment to success is most evident.
"I've never had a summer practice or mandatory practice because the kids are so good at getting together and doing it themselves," Spielman said.
The tradition of winning that has blossomed under his direction is something Spielman cherishes.
"It's really important for them to be able to have that for the rest of their life," he said.