BHS

wrestling team places third at Ottawa duals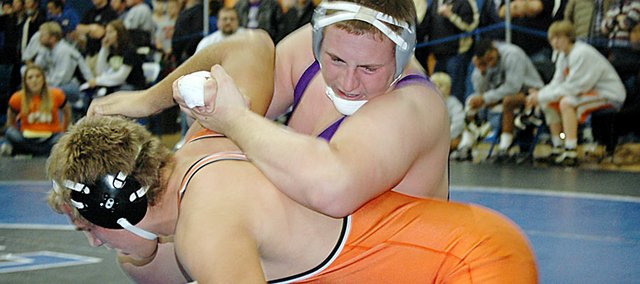 Baldwin High School's wrestling team kicked off its dual season with a bang Saturday at Ottawa High.
In their first dual action of the season, the Bulldogs finished 4-1 and placed third as a team at a tournament contested in a dual format. Along with the team finish, seven Bulldogs finished the day with undefeated records at the dual tournament.
"We felt like we could have done better, but we were pretty satisfied with third place," junior Andrew Morgan said. "We had to wrestle a tough 4A team in the finals and we beat them, so we were happy with that."
Baldwin's only loss Saturday was a 36-26 victory by Valley Center in the second dual of the day. Valley Center is now Class 5A, but finished runner-up at the Class 4A state meet last February. Valley Center defeated Fort Scott 46-16 in the finals.
"We gave Valley Center its closest dual and we were even out a couple of starters," coach Kit Harris said. "If one or two matches go differently, we might win that dual. In actual matches wrestled, we were 6-6 with them and they were state runners-up last year."
Morgan agreed with his coach.
"We wrestled well against Valley Center," he said. "We gave up two weight classes, so that was 12 points we lost already. If we had a full lineup, we might have been able to beat them."
In the third-place dual, Baldwin destroyed Prairie View 56-15 to finish the day with a team victory. Baldwin also defeated Highland Park (64-12), Anderson County (56-18) and Osawatomie (55-21).
"Our dual with Prairie View could have been really close, but we won almost all of the close matches," Harris said. "The only one we didn't was one where we were leading late. As far as wrestling goes, that was our best wrestling of the season against a really good team. That was a great way to end the season before break.
"I also like the dual tournament, because we compete as a team," he said. "We got a lot of matches. Everybody had some tough matches, too."
Twelve of the 13 Bulldogs who competed Saturday wrestled five matches. Junior Cody Sellers went 3-0 at 130 pounds, while battling through an injury.
Six other Bulldogs finished the day with 5-0 records and a pair of seniors was 4-1 at the tournament.
The undefeated BHS wrestlers were freshman Tucker Clark (112), sophomore Bryce Shoemaker (119), Morgan (125), sophomore Colton Horne (145), junior Colton Bonner (215) and senior Jesse Austin (285). They all went 5-0.
"We wrestled great as a team," Bonner said. "The dual aspect is awesome. You feel you have to wrestle harder, so you wont let your team down. I felt I wrestled pretty good. I worked on some stuff I needed to work on and improved."
The Bulldogs coach was happy with his wrestlers.
"Jesse had five pins and all were in the first minute of each match," Harris said. "Bryce had to wrestle a really good kid, who was fourth at state last year. Tucker came back and beat a kid who beat him at Eudora last week. Andrew had to wrestle a couple of tough matches against Prairie View and Valley Center wrestlers. Both Colton Horne and Colton Bonner also wrestled well."
The Bulldogs next compete at a tournament Jan. 8 at Rossville. They aren't allowed to practice until Tuesday, but they will use this time to improve before the season heats up after Christmas break.
"We need a break right now physically," Harris said. "It's a good time to get rested and healed up. We have some guys who are beat up or a little sore, so this break comes at the perfect time for us. We'll come back after break and work on our areas that need improvement.
"January is a quick month. I tell these guys that January flies right by. We've got a dual or tournament every week and then the month is over and the season is about over, because we are looking at league, regional and state."