BESIC

students help replenish Community Emergency Fund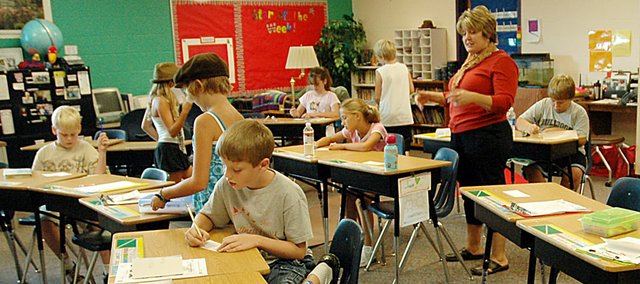 Local elementary students and their families brought Christmas cheer to some Baldwin City families with a significant contribution to the Community Emergency Fund.
From Nov. 29 to Dec. 15, the staff at Baldwin Elementary School Intermediate Center collected money from its fourth- and fifth-grade students. At the end of the day on Dec. 15, BESIC had collected $1,568.46 for the Community Emergency Fund.
"It teaches them that there are things bigger than you and people with problems bigger than yours," BESIC Principal Dan Wallsmith said. "It makes them feel good about giving, too."
Kim Heckathorne, BESIC secretary and CEF board member, was ecstatic about the students' donations.
"It was amazing that they came up with that much money," she said. "It was truly amazing. They were excited to be bringing in their money to help others. Some would bring in a whole bag that would fill up their tub. They would make a whole deal out of pouring it in there."
Nearly one-third of the total collection came in on the final day. The school collected $497.71 on Dec. 15, thanks to a single donation of $300 by a student in Jo Heins' fourth-grade classroom.
Nancy Parr's fourth-grade students donated $140.60 on the final day. During the entire collection run, there were six donations of $100 or more.
"There were several families that donate to that fund at this time of the year," Heckathorne said. "With this going on, they made their donation through the student council's project. That really added to the total."
The BESIC Student Council collected for CEF last year and raised about $600. Because third-graders were moved to the Baldwin Elementary School Primary Center, the student council decreased its goal to $325 this year.
"We challenged them to meet their goal," Wallsmith said. "If they met the goal, they would get an afternoon of games. Then the class that brought in the highest average would get to play a game of dodgeball against the staff and me. They only benefit from it by receiving a fun afternoon, but I don't think that was a big incentive for them.
"The first-place class kept rotating each day. It ended up being Jo Heins' fourth-grade class at $428. We actually had three classes that made more than our original goal for the entire school."
Keeping track of the donations was a bit more difficult this year because the school was separating them by classes.
"Many students brought in bags of nickels, dimes and pennies," Heckathorne said. "Since we were keeping totals for each classroom, we had to count it all. We counted every penny, nickel and dime."
The Community Emergency Fund helps families recover from a disaster, such as a fire or tornado, while also helping pay utility and medication bills. The CEF also provides holiday meals to local families.
"It was huge," Heckathorne said. "I know we've given thousands of dollars to people this year. Without the support of the community, we wouldn't be able to do that. We had gotten a little low, so the timing of this was perfect. The student council has done this in the past, but never to this amount. It was very generous."