Fourth quarter rally boosts
BHS

girls to home victory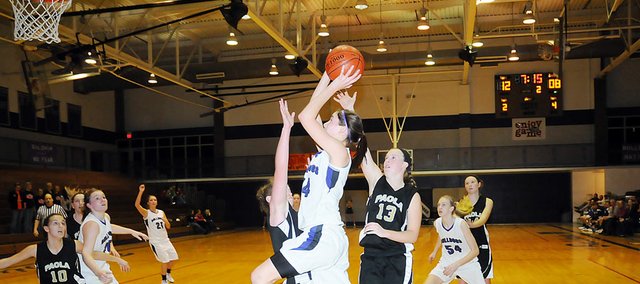 If basketball games were judged on style points, the Baldwin High School girls basketball team might not have been awarded its victory Tuesday.
Careless turnovers, missed free throws and a four-point third quarter were almost enough to sink the Bulldogs in their home and Frontier League opener. However, the Bulldogs (4-1) rallied in the fourth quarter to beat Paola 50-47.
"We didn't play great tonight, but we hustled all over the court," senior Allison Howard said. "We had great energy from everyone. We're scrappy, and it paid off."
A 15-1 run during the fourth quarter boosted BHS to victory. Baldwin trailed 33-28 at the end of the third quarter after not scoring the final 5:20 of the quarter. BHS scored 15 of the next 16 points, taking a 43-34 lead with 3:30 remaining in the game.
Paola sank a three-pointer with four second remaining to cut the lead in half, but Baldwin was able to dribbled out the final seconds to win the league contest.
"I felt like we were kind of on our heels defensively for much of the game," coach Bob Martin said. "Offensively, we missed some open shots and easy shots. We just looked out of sync. We got ourselves back in it early in the fourth quarter. We got back on top and took control of the game. We found a way to win the game in the end."
Senior Myranda Behrens kicked off the 15-1 run with one of her four three-pointers. She finished the game with 12 points. Less than 30 seconds later, Howard made two free throws to tie the game. Sophomore Katie Kehl, senior Ramie Burkhart and freshman Katie Jones all scored during the Bulldogs' game-winning stretch. Burkhart scored four of her game-high 14 points to help BHS build its nine-point lead.
"Myranda Behrens saved our butt a lot tonight," Martin said. "She made a couple big shots and the big three for us. Then we picked up our defense and got some stops."
Paola cut the lead to four points with 40 seconds remaining, but Baldwin continued to make foul shots down the stretch. Howard made all six of her free throws in the final quarter. Sophomore Kailyn Smith also sank four of six to clinch the win.
"I practice them all of the time," Howard said of free throws. "I live for the pressure shots."
The Bulldogs and their coach were happy to win their first league game, but they were more thrilled to rebound from a tough loss Friday.
"We had a hard week last week and a tough loss on Friday," Martin said. "Sometimes it's hard to get yourself back up for the next game. We were flat for a lot of the game tonight, but I was really happy with the way we rose to the occasion in the fourth quarter."
On Friday, Baldwin fell to Louisburg, 69-67, in double overtime in the championship game of the Anderson County Invitational.
Behrens kept Baldwin in the game with heroic three-pointers in the first overtime. In the extra period, Baldwin trailed by four with 36 seconds left, until Behrens sank a three-pointer. After a pair of LHS free throws, Behrens drained a bomb from five feet behind arc to send the game to double overtime.
Behrens began the second overtime with another three-pointer, but Louisburg rallied from down four points to take the lead. Baldwin had one final shot with time winding down, but threw the ball out of bounds on a pass to Behrens.
"This is a game that we can learn a lot from," Martin said. "We didn't play with a lot of poise in the second half when they made a run at us. We made a lot of mistakes we shouldn't have made. Mostly, they just outworked us in the second half after one of our best halves we've had in the first half. We have some work to do."
Baldwin led by 16 points at halftime but only managed five points in the third quarter as Louisburg cut the lead to five points. BHS continued to lead until the final seconds of regulation. Louisburg's Marisa Mackey sank a three-pointer with 35 seconds left in regulation, sending the game to overtime.
Baldwin next game is Jan. 3 at Eudora. BHS will practice over winter break before returning to league action.
"It's a good start to the season," Howard said. "We have high goals for this season, so we have to keep improving. We also play in a tough league and we have to play hard every night."