Bulldogs finish seventh at Eudora tournament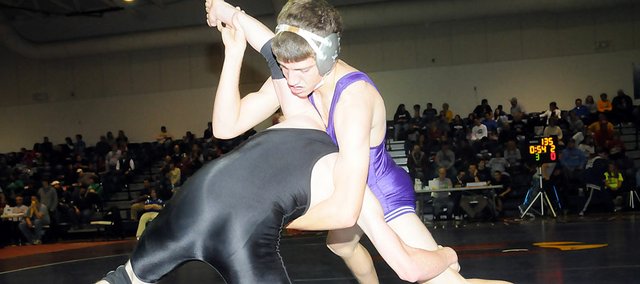 EUDORA — Despite losing one of its top wrestlers to illness on the final day of the Eudora Tournament of Champions, the Baldwin High School wrestling squad finished seventh out of 23 teams competing.
Baldwin scored 163.5 points to place seventh as a team. Lansing won the tournament with 247.5 points.
"It was a great tournament, because it was similar to regional and state," coach Kit Harris said. "It was a two-day tournament with a lot of 4A teams, and guys we will see in the regional brackets. If a guy wants to place in this tournament, they had to win five or six matches over the course of two days. It was good preparation for later in the season."
Baldwin was in second place after Friday's action. BHS had 104.5 points, just behind Lansing's 120.5 with a 25-14 record on the day. After going 4-0 Friday, senior Jesse Austin (285 pounds) had to withdraw from the tournament because of illness.
"He had a great first day," Harris said. "He was in a really good spot to make the finals. The guy who won the tournament beat Jesse in overtime last year, so he would have had a good chance to win the tournament. He's pretty upset about it."
Sophomore Bryce Shoemaker said the team missed Austin, but understood why he wasn't able to wrestle.
"We started off with a great first day," Shoemaker said. "The second day kind of went downhill. We had some tough matches, and Jesse was sick. It's not an important tournament, but we will improve from this."
Shoemaker and senior Greg Schiffelbein led the Bulldogs with a pair of third-place finishes. Shoemaker (119) finished the tournament with a 6-1 record, while Scheffelbein (145) was 6-2 on the weekend.
"Bryce had to wrestle two more matches to come back and get third," Harris said. "Greg beat a kid he had already lost to. He had a great tournament to finish in third place."
In the semifinals, Shoemaker wrestled Louisburg's Austin Hood, who is the defending state champion at 112 pounds. Hood won the match 1-0.
"I was happy I got to wrestle Austin Hood," Shoemaker said. "I can now learn from that match and know what I have to do for our next match. We were both defensive. When I was on top, I got a little overextended and he got an escape point. That was the match."
The pair of defending state champions won't wrestle again until late in the season.
"They won't see each again until league and then again at state, because they aren't in the same regional," Harris said. "I wish we could see him at regional. Bryce wrestled a good match. Hood is always in good position and hard to score points against, but he had a hard time scoring on Bryce, too."
Six other Bulldogs placed in the top eight of their bracket Saturday. Senior Keenan Coffey (189) placed fourth, junior Cody Sellers (130) finished sixth and freshman Tucker Clark (112) placed seventh for Baldwin. A trio of Bulldogs finished eighth. They were senior Colby Soden (135), freshman Riley Thomas (140) and junior Colton Bonner (215).
"We would have nine guys place, but Jesse got sick and couldn't compete on the second day," Harris said. "That's the most we've had at this tournament. We only took 12 guys, so nine of our 12 were bracket wrestlers."
Baldwin's final wrestling before winter break will be the Ottawa Duals Saturday. Action starts at 9 a.m.
"It's still early in the season," Shoemaker said. "This is the time to change things up and try new things. It's hard to do that late in the season, but that's when we should be hitting things consistently and getting good at our moves."