BHS

boys win home, league opener
Bulldogs' victory over Paola extends winning streak to three games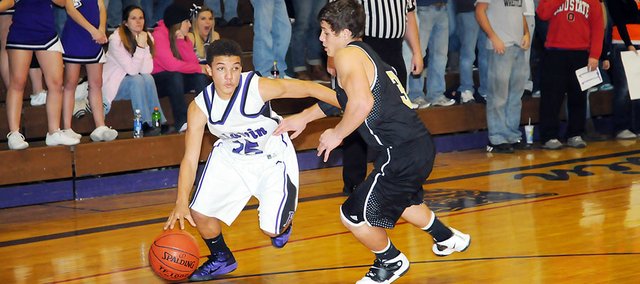 Since returning to the lineup, Justin Vander Tuig has led the Baldwin High School boys basketball team to a pair of victories.
Baldwin's senior center left the game last Tuesday with a finger injury. He didn't finish the game as BHS rallied to beat Iola. The 6-foot-9 Bulldog was back in action Friday against Frontier League opponent Louisburg in the third-place contest of the Anderson County Invitational.
Vander Tuig and the Bulldogs beat the Wildcats to even their record to 2-2. On Tuesday, the Bulldogs hosted Paola for their first home game and league contest. The Bulldogs (3-2) defeated Paola 53-42 to win their third-straight game.
"It's been fun and nice to win a few in a row," Vander Tuig said. "We've been playing well as a team. We've come out with a lot of energy and won three games in a row.
"It's nice to get one win, and it was important in a couple of ways. It's fun to get the first home win. They always support us very well. It was also the first league game, so it was nice to come out and get that win, as well."
BHS coach Eric Toot was happy for his players. He hopes the past two wins will give them the confidence needed to be competitive in the Frontier League.
"I think we believe now that we have a team that can do some really good things this year," Toot said. "I wasn't sure when we came into the season that we truly believed it as a group. Our kids are excited that if we play hard and play together, then we can compete and that's what we are doing."
Baldwin and Paola battled throughout the entire game that saw both teams whistled for numerous fouls. The largest lead was seven points, until Baldwin pulled away late in the game.
The Bulldogs made only 14 of 29 free throws in the game. However, they did make eight of 12 foul shots during the final 2:06.
"We had a bit of trouble hitting free throws tonight, but we hung tough and gutted it out," Vander Tuig said. "We missed a lot early, but we made some at the end, which was important."
Free-throw shooting is an area the Bulldogs need to improve, but it's not a major concern, Toot said.
"I'm not going to worry about that," Toot said. "I've stressed over that in the past. I think our kids will make them when they need to. We will get better at it, because these guys will work at it. As long as we are showing the heart and passion that we are right now, I'm not going to worry about all of that other stuff."
Baldwin trailed 38-37 with 5:20 remaining in the game. Then BHS finished the game with a 15-4 run. A basket by Vander Tuig started the rally.
The next shot sparked the Bulldog's finishing run. Freshman Cornell Brown drained a three-pointer to give BHS a 42-38 lead with 3:25 left in the contest.
"It was a shot by a kid that has a lot of confidence right now," Toot said. "He's played a lot basketball. It's not like in the old days where a freshman hasn't played much. These kids have played so many games and been in so many situations.
"What was great about that shot was it was out of a drill that we do almost every day in practice. It makes you feel good as a coach when you see things carry over from practice into games. It was just like we draw it up in practice. It was a great pass and great shot."
Vander Tuig led Baldwin in scoring for the second-straight game. His 14 points followed a 16-point performance Friday against Louisburg. Brown added 13 points, which included four-of-four free throws in the final minute. Sophomore Caleb Gaylord also scored in double figures with 11 points.
"We don't have that one player who is doing everything for us, but put us all together and we are making an alright team right now," Vander Tuig said. "Hopefully, we can keep that up for the rest of the season."
On Friday, Vander Tuig's foul shooting helped Baldwin win in Garnett. He made two of his team-leading 16 points at a crucial time. He sank a pair of free throws to give the Bulldogs a four-point lead with 12 seconds remaining. Freshman Caleb Gaylord made two more free throws on the next possession before Louisburg threw in a last-second three-pointer at the buzzer.
Baldwin won't play again until January. BHS will practice over winter break, but its next game will be at home Jan. 7.
"Unfortunately, we are on break right now," Toot said. "I would like to continue to play. I know the kids would. We will have a few more practices before break and then get a chance to get their legs back and rest mentally. Then we will come back right into league play. I know our kids will be excited to play."