Poinsettia care
Following tips can extend holiday plant's life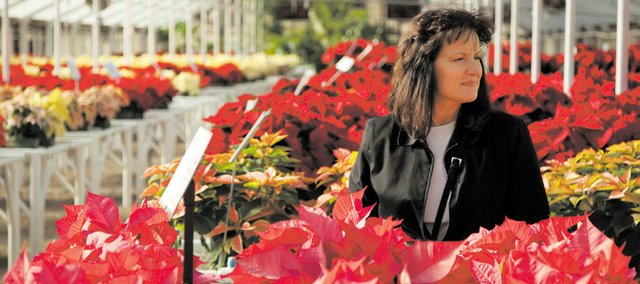 Modern poinsettia varieties can stay attractive for several months, but only if they get proper care.
Ward Upham, horticulturist with Kansas State University Research and Extension, shares his expertise on care for the traditional holiday plant.
Q: I just received a poinsettia as a gift. What initial steps should I take to make sure it will last?
A: If the container comes wrapped with foil, you'll need to remove that cover or poke holes in its bottom. You'll probably want to place the poinsettia in a sink before watering, too. Watering to the drainage point can be messy.
Q: What's your top tip for caring for poinsettias?
A: One of the best things you can do is to stick your finger about an inch into the plant's soil every day. When the top inch of soil is dry to the touch, the next steps are to supply lukewarm water until some runs out of the pot's drainage hole(s). Then, discard the drainage water.
Q: What's too much water?
A: Never let a poinsettia sit in water. Poinsettias typically respond to "wet feet" with root damage. If they dry out to the point of wilting, they yellow and drop leaves.
Q: Do they like light?
A: Place poinsettias where the light is bright for up to six hours a day. Indirect natural sunlight is best. Unless diffused by a sheer curtain, direct sunlight can cause fading.
Q: I keep my house cool. Does this affect the poinsettias?
A: Keep daytime temperatures at 65 to 75 F. and nighttime temperatures a bit cooler. Temperatures above 75 degrees shorten bloom life. Those below 60 F. promote root rot. Also moderate their temperature extremes by keeping them out of drafts – hot or cold.