Sophomore post players fill Bulldogs' void to assist with first win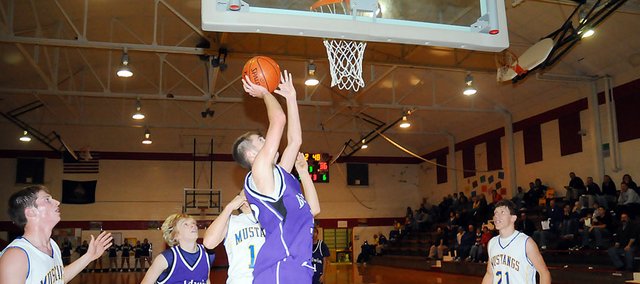 GARNETT — Despite losing its best player during the first half, the Baldwin High School boys' basketball team won its first game of the season here Tuesday night.
Baldwin's 6-foot-9 senior Justin Vander Tuig left the game in the second quarter with a hand injury. He didn't return to the contest. In his absence, the other BHS players stepped up and won the game.
Baldwin (1-2) defeated Iola 57-42 in the second round of the Anderson County Invitational.
"Oh my gosh, I'm so excited right now," senior Kyle Pattrick said. "It was so fun to finally come out and get a win. We've been playing well every game, but we didn't get breaks. We hit most of our shots, kept playing hard and came out with a win."
After opening losses to Santa Fe Trail and Burlington, BHS coach Eric Toot was happy to win Tuesday.
"The goal tonight was to win, no matter what and we talked about that before the game," Toot said. "Of course, we didn't know Justin was going to get hurt and be out for most of the game, but it didn't matter because the kids had the mentality that they were going to win anyway. That was great to see.
"Obviously, we want Justin in there, because he's playing tremendous," he said. "If we get our kids to play like that with Justin, then we have a chance to be a good basketball team."
Sophomore post players Caleb Gaylord and Dayton Valentine filled in for Vander Tuig. Gaylord led the Bulldogs with 16 points and Valentine scored 11 points in his first BHS contest.
"I wasn't sure we'd have Dayton tonight," Toot said. "Justin getting hurt mad that decision easy. He's played tremendous and he gutted it out. Also to see Caleb Gaylord play the he played tonight is what we expect. I know that's what he expects of himself. He was a great player tonight. He has the ability to do that every game."
With Vander Tuig out of the game in the second half, Baldwin maintained its seven-point halftime lead. Iola cut the lead to four points early in the third quarter, but Gaylord and Valentine answered with baskets.
Freshman Cornell Brown helped widen the margin with a three-pointer before the post players scored again after grabbing offensive rebounds. They combined to score 25 of Baldwin's final 39 points. Brown and freshman Chad Berg combined to add 10 points during that stretch.
"They bring things to our team that nobody else has," Toot said of Berg and Brown. "They have great ball handling skills and they an beat guys off the dribble one-on-one. They can make it happen without us having to draw something up. It's exciting to have two players with those abilities."
Although their center left the game with an injury, the Bulldogs were excited to know they can win without him on the floor. They do hope he returns to the floor soon.
"This should give us a lot of confidence," Gaylord said. "I hope Justin is OK, but Dayton stepped up and played great. We knew we had to step up. Our high-low worked awesome tonight."
On Monday night, the Bulldogs lost to Burlington 65-45. They struggled to score early in the game and fell behind 29-18 at halftime. Burlington opened the lead up in the third quarter and the Bulldogs never caught up.
Baldwin opened the season Friday at Santa Fe Trail. BHS led at half by one point, but fell behind in the second half. The Chargers won the game 56-44. Vander Tuig scored 22 points in the opener.
"Everybody looks at wins and losses and I want to win as bad as anybody else, but we've played three games and our kids have given tremendous effort all three games," Toot said. "If you ask for anymore than that as a high school coach, that's just wrong. We are 1-2, but I can't be happier for our kids right now. They are a joy to be around and I'm excited for the rest of the season."
Baldwin will play at 4 p.m. Friday at Anderson County High School. It will be the third-place game of the tournament. The opponent will be known after Thursday's tournament games.
"The kids enjoy this type of week with more games than practices," Toot said. "That's what they play for, so we are excited for them. We are looking forward to Friday."
The Bulldogs will play their first home game of the season Tuesday. They host Paola for a six-game night. The varsity boys will start at 7:30 p.m.
"We turn right back around and play Tuesday," Toot said. "Our league is tough as nails. We will have to compete hard every night to be successful and I'm confident our kids will do it."