Postseason football honors roll in for 11 Bulldogs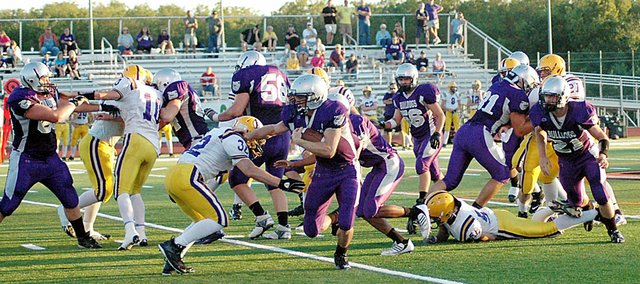 Another successful football season has led to many individual honors for Baldwin High School players this fall.
Eleven BHS football players were honored with All-Frontier League awards for their performances this fall that helped the Bulldogs finish 10-2. Eight of those Bulldogs are seniors. Baldwin also had five players receive all-state awards.
"All of the hard work they put in this offseason has paid off for them," coach Mike Berg said. "When your team is successful, the kids are going to get the awards. I'm just so happy for our seniors. A lot of them got awards. We are in a very tough league and four of the league schools represented the east in the final eight. That says a lot when you're on the all-league team."
Leading the way on all-state team was senior Jesse McDaniels. He was chosen as a first-team all-state center on the offensive line. He also earned a first-team all-league selection.
"Jesse had a great year for us," Berg said. "He was our center and he always knew who to snap the ball to on each play. He also blocked great and other coaches recognized that this season. This is a great honor for him."
Four other Bulldogs earned honorable mention all-state selections. They were seniors Jesse Austin (offensive line), Keenan Coffey (defensive end), Josh Hoffman (running back and linebacker) and Ryan Rogers (running back/quarterback).
Hoffman was a first-team all-league player as a running back and linebacker. He carried the ball 181 times for 1,623 yards, which is an average carry of 8.97 yards per rush. Hoffman scored 23 rushing touchdowns. He also caught 20 passes for 519 yards and three touchdowns.
On defense, Hoffman led the Bulldogs with 121 tackles and 82 of those were solo tackles. He had three interceptions and two defensive touchdown, as well as three fumble recoveries for one more touchdown.
Hoffman was also nominated by the Kansas City metro media for the Frank Fontana Award, which is given to the best small class football player in the KC metro Area for Classes 1A through 4A. Only 10 players are nominated.
"The league coaches were very impressed with his yards per carry," Berg said. "His yards per carry was phenomenal. He led the league in rushing yards per game, too. He led us in touchdowns and tackles, so he was our best player this year."
Berg said Hoffman took a big step in becoming a better player between his junior and senior year. He also took advantage of his teammates' improvements, too.
"He had more confidence in our offensive line," Berg said. "When you do that as a running back, you're going to run harder. He ran so much harder this year and he ran with confidence. He also held on to the football. Last year, we had a problem with our backs turning it over, but we didn't have that problem this year. He also followed his blockers. He had great lead blockers in front of him with Landon and Ryan. Those two kids, besides our offensive line, led the way for him."
Ausherman and Rogers were also honored by the league coaches. Rogers was a second-team all-league running back and honorable mention linebacker. He carried the ball 191 times for 1,277 yards and 14 touchdowns. Rogers completed 56 passes for 1,003 yards and five touchdowns this fall. On defense, he recorded 90 tackles, which was third on the team behind Ausherman and Hoffman.
Ausherman was chosen as an honorable mention running back and second-team linebacker. He recorded 110 tackles on defense and averaged 4.14 yards per carry on his 49 rushes this fall. He scored six touchdowns on the ground.
"It's hard for Landon to be up high in the voting as a running back, because he didn't have very many yards," Berg said. "It's said that they don't look at blocking for backs. If we had a first-team all-league blocking back, Landon would be it. Unfortunately, they just look at the yards. In my book, he's a first teamer."
Other offensive all-league honors went to Austin (second-team offensive line), senior Tyler Schneider (second-team offensive line), sophomore Dayton Valentine (second-team tight end), Hoffman (second-team punter), Coffey (honorable mention offensive line) and junior Asher Hannon (honorable mention wide receiver).
On defense, the honors went to Coffey (first-team defensive line), Hannon (second-team defensive back), McDaniels (honorable mention defensive line), Rogers (honorable mention linebacker), senior Braden Souders (honorable mention defensive back) and junior Will Simmons (honorable mention defensive back).
"We had three out of the top 10 offensive linemen in the league," Berg said. "That is huge. We had a state champion team in our league and they got three also. For us to get three is impressive. I'm proud of all of the players. They worked hard and deserved the recognition."