Future of rural schools decision looms Monday night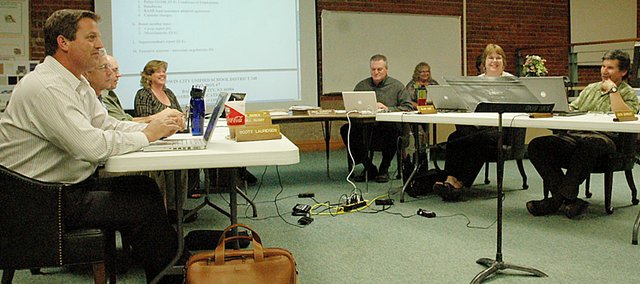 As the Baldwin USD 348 Board of Education prepares Monday to make a decision on the future of two rural elementary schools, district patrons on both side of the issue say it is time for resolution.
It's a topic that has split the school district and damaged friendships. Parents and students have spoke to the school board and Superintendent Paul Dorathy on the issue for nearly a year. After all of those comments, letters and e-mails, it appears as if the time for a decision has arrived.
"The school board will have two resolutions in front of them Monday," Dorathy said. "One will be to close the schools, and the other will be to keep them open."
Patrons on both sides of the issue are ready for a decision from the school board. They are tired of making their case, whether that be to keep Marion Springs and Vinland elementary schools open or close them to save money for the district.
"I want resolution, but I also want the district to make a wise decision," Kent Johnson said. "If we consolidate, that's our first step toward a fiscally sound district. If we don't, then there has to be a plan. We need a plan, because we can't keep cutting."
Kim Beilfuss, who's husband attended Marion Springs, has helped lead the group of rural patrons during the debate. She is the MSES Community Service Organization president and has attended every school board meeting for the past several months. She's talked to people who attended the school decades ago. She learned the district discussed closing the school in the past, so the issue wasn't a new topic.
"Of course I want the rural schools kept open," Beilfuss said. "But at the same time, having to fight for your school every year takes a toll. It takes a toll on the kids, as well as the parents. I think there are other options that are available that aren't being looked at by the school board. We're making this decision, and we don't know what the budget is for next year."
The school board had a public hearing on the proposal on Nov. 11. More than two-dozen patrons spoke at the meeting. Most of the comments echoed those expressed at monthly school board meetings since last spring when the closings gained traction because of looming budget cuts from the state.
Should the board opt to close the two schools, which have enrollments around 70 students, all elementary students in the district would attend Baldwin Elementary School Primary Center or Baldwin Elementary School Intermediate Center.
Patrons on both sides of the issue will be at the meeting Monday, which begins at 6:30 p.m. at the District Office. The regular portion of the meeting normally begins at 7 p.m. after the school board has a 30-minute executive session.
"I will be going from the most fun event of our school year to one of probably the hardest events that our school will endure," Beilfuss said. "I will see it through. In the end, the school board has the final say. We are powerless at this point."