City council OKs developing preliminary plans for library expansion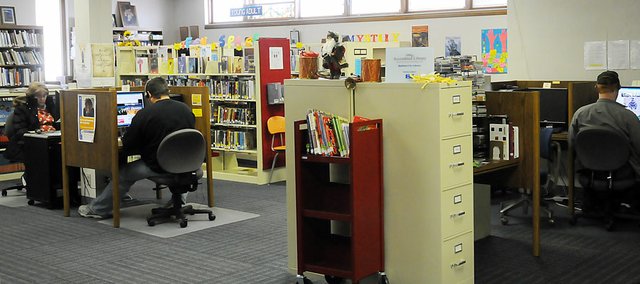 For the first time in five years, members of the Baldwin City Public Library board of directors are talking about the need for an expansion to the 17-year old building.
On Monday, board members spoke to the Baldwin City Council about a possible expansion. After listening to the presentation, the council gave the library board the approval to move forward with the preliminary stages of the project.
"I think what you're hearing from the council tonight is we're willing to take it the next step," Mayor Ken Wagner said. "I think we will see what kind of money it would take to make this happen."
The finances of the project were only briefly discussed Monday. Kyle Trendel, library board member, estimated the cost of preliminary drawings to be $1,500 to $2,000. He also said expansion might cost from $150 to $175 per square foot.
The plans completed five years ago call for a 5,000-square-foot expansion to the 6,000-square-foot building. At the price-per-square-foot estimate Tyendel shared that would cost from $750,000-875,000.
"The funding is truly up to them and how they want to do it," Ivan Huntoon, library board member said of council. "I trust them to do what's best for the community."
Council members suggested sales tax revenue could help pay for the project. However, Wagner said a bond issue might be used to pay for the project, but that was still undecided.
Most of the discussion and information Monday night centered on the library's lack of space and usage in the community.
"I'm very passionate about libraries, and we have a wonderful library. But it's just too small," said library board member Carol Chapman. "It is used by so many people in the community, but we can't properly serve them, because we are out of space."
Chapman said the library had thousands of books for all ages, as well as DVDs and movies to rent. It has several computers with Internet access, but more computers were needed for local patrons.
Baldwin High School students have been using the library recently because district budget cuts have made the school unable to hire full-time librarians. The library is also part of a 33-library consortium, which has enabled members to check out books and other materials from other libraries.
However, the library can't add additional books or movies because of space limitations.
"For us to adequately serve the community, we need more space," Huntoon said. "We need more office space. We need more storage space, because we no storage space in the existing facility. Patrons have requested things that we don't have room for and they are things that aren't out of bounds. They are things that the community would use.
"One example is the community room that is almost used on a daily basis. We'd like to make that larger, so we could offer it to larger groups in the community that could use it as well."
The previous drawings have the building expanding to the south and west. Huntoon said that was probably the directions it would expand, but plans would have to be developed.
"As far as the design, we need to talk with the library staff and the patrons, who have requested things to find out exactly how they'd like the building to be designed," Huntoon said. "We have discussed some of these things, but we need to nail them down so that the city council can make an informed decision. I feel that it is our responsibility to get these numbers to the city council."