BHS

wrestling squad finishes fourth at Gardner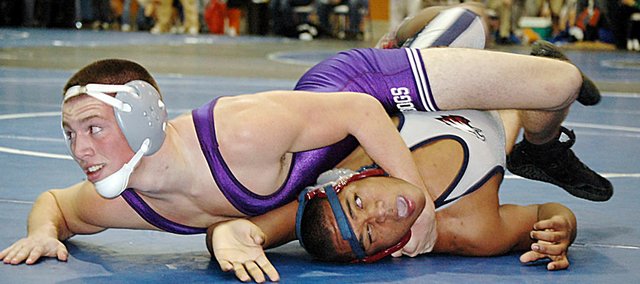 Kit Harris was thrilled about the opening tournament of the Baldwin High School wrestling season.
His Bulldogs competed Saturday at Gardner-Edgerton and left with a fourth-place tie in 16-team tournament. Baldwin scored 161.5 points to tie Pittsburg. Platte County (Mo.) won the tournament with 200.5 team points, while Omaha Burke (Neb.) was runner-up and St. James Academy third.
"It was a really exciting start to the season, and I hope we can keep it going," Harris said. "We were in pretty good shape, we were hitting moves pretty sharp, and we had some pretty exciting wins. Everybody scored at least one team point, too."
The Bulldogs were also excited about the high team finish at the tournament, which featured mostly schools larger than Baldwin.
"It was a great start to the season," sophomore Andrew Morgan said. "We had a bunch of guys step up in varsity spots and that helped a lot. Everybody got a team point, too."
Seven Bulldogs finished in the top three of their weight class. Leading the way was sophomore Bryce Shoemaker, who won the 119-pound division. He went 3-0 and pinned two opponents on his way to winning the bracket.
"Bryce looked sharp is in his first match at 119," Harris said. "It's harder. He has to work harder on his finishes and on the bottom. He won last year with good skill. Sometimes a lightweight can win by being stronger and faster. He's strong and fast, but he also has good skills. So, as he moves up in weight, his skills still come with him."
Four other Bulldogs made the finals of their weight division and finished second. They were freshman Tucker Clark (112), sophomore Andrew Morgan (125), senior Greg Schiffelbein (145) and junior Colton Bonner (215).
"We knew he was a good wrestler, but you never know how he's going to do at the high school level," Harris said of Clark. "In his first match, he wrestled the No. 1 seed, who was state placer from Nebraska. The kid might have overlooked him and he pulled out an overtime win. It was one of the most exciting matches of the tournament."
Morgan only practiced five days before competing Saturday. He was medically cleared Nov. 29. He battled a lack of conditioning Saturday, but was still happy to finish runner-up.
"I was mad that I messed up a bit in my finals match," Morgan said. "But I know I was just cleared Monday and only practicing for one week, made it a pretty exciting tournament."
Seniors Keenan Coffey (189) and Jesse Austin (285) placed third for Baldwin. Freshman Riley Thomas (140) also placed sixth.
"We've definitely picked up where we left off last year," Harris said. "A lot of our guys have improved and taken steps to win those one-point or overtime matches. They've been in those matches during the past couple of years. They've won some and lost some. The experience of being in that situation and staying focused. A lot of these guys have been varsity for several years, so that experience is paying off now."
Baldwin will compete this weekend in the two-day Eudora Tournament. There will be 24 teams competing. It will begin at 1 p.m. Friday and 9 a.m. Saturday.
"There are a lot of area and regional teams at the Eudora tournament," Harris said. "I'm exciting, because I know we have a lot of guys that could place this weekend."