Baldwin City Children's Choir will perform Sunday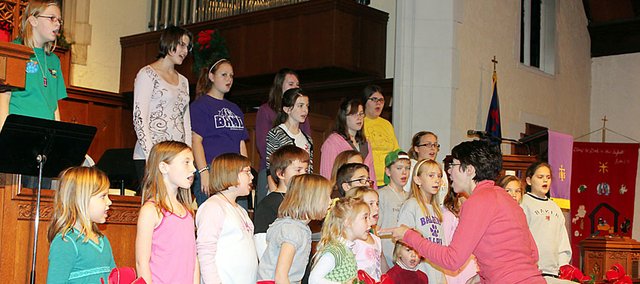 Baldwin City Children's Choir will see the culmination of four months of hard work and a lifelong dream Sunday when it performs its first Christmas concert. The program begins at 5 p.m. Sunday at the First United Methodist Church, 704 Eighth St. The performance is free and the public is invited to attend.
Amy Potterton, BCCC director and choir conductor, has dreamed about developing a first-class children's chorus since she first joined a choir as a child.
"It's strange to say I dreamed about this," she said. "But I really have. And I couldn't be more excited about this program. These children have worked so hard. They are so talented. They really are going to raise the roof."
Comprising three choirs, more than 40 local children, ages 3 to 18, have learned songs ranging from traditional Christmas carols to Welsh compositions. They learned songs in English, Hebrew, German and even Zulu. Each Wednesday, they meet at the First United Methodist Church to practice not only singing these songs, but choreography as well. It was quite a steep learning curve for a lot of these kids, Potterton said.
"But these kids met every challenge, every piece of music and every dance step I threw at them," she said. "It's amazing how far they've come, I can't wait to show them off. Our singers are going to have a wonderful time. And so will our audience."
A silent auction will also take place during the performance. Choir members are raising money so they can travel to St. Louis to participate in a national choir festival in April.
The choir will start rehearsing in February for the spring concert and festival. Auditions for next semester's choirs will be held by appointment from 4 to 7 p.m. Wednesday, Jan. 19, at the church. For more information or to set up an audition time, please contact Potterton at (785) 594-3947.