Balanced scoring attack boots Bulldogs to 3-0 start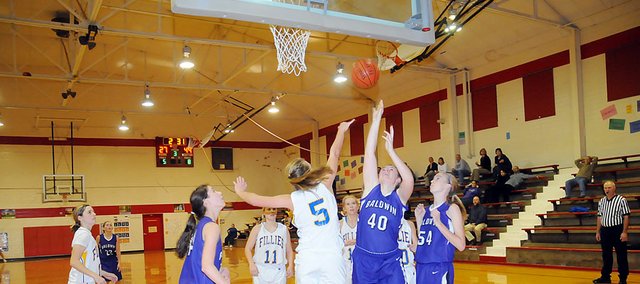 GARNETT — A balanced scoring attack has helped the Baldwin High School girls' basketball team begin the season unbeaten after adding two wins here this week.
In each of the Bulldogs' three wins this season, at least three players have scored in double figures and no player has scored more than 14 points. Yet, somehow, the Bulldogs are averaging 63.33 points per contest.
The points have been distributed around a handful of players during these early games. Six players have scored in double figures to help the Bulldogs begin the season 3-0.
"We've been really balanced all three games," coach Bob Martin said. "I feel good about that. I feel that we can score from about any position and that's a really nice thing to have, because teams can't lay off on any one player."
Four BHS players scored in double figures in Tuesday's win. Baldwin crushed Iola 68-43 to win its second game of the Anderson County Invitational.
"I thought we came out and did a lot of things well tonight," Martin said. "We shared the ball really well tonight. We still have a long ways to go, but it was a good win."
Senior Ramie Burkhart led the way with 14 points Tuesday. Twelve of her points came in the first half when Baldwin opened the game up. BHS took a 37-18 lead into halftime.
"We practiced all weekend to prepare for this week," Burkhart said. "We've committed a lot of early season mistakes that we need to buckle down on, but we are playing pretty well and we won both games."
Senior Myranda Behrens scored eight of her 13 points in the third quarter. She hit two three-pointers in the quarter. The second long-range shot came on the possession following one where freshman Katie Jones sank a three-pointer. The Bulldogs made eight threes Tuesday.
"That's the way I think we can shoot the ball," Martin said. "We got good, open looks and the girls knocked them down. We shot with a bit of confidence tonight."
Also scoring in double figures were senior Allison Howard and sophomore Katie Kehl. Howard scored 11 points and Kehl added 10. They helped Baldwin control the game from the opening minutes until the end when all varsity players saw minutes on the court.
"We got ahead faster tonight and everybody got in the game, so it was a totally different game than yesterday," Burkhart said. "We did really well rotating the ball and getting open shots."
Martin was happy to see his team play well after winning Monday night.
"I wasn't really worried about our rest," he said. "I was concerned how we would respond to having played a really hard game last night. That was a tough, physical game last night. We came out and responded well tonight."
The Bulldogs' physical game came Monday night. They opened the tournament against Burlington and came away with a 60-50 win.
"It was a really physical, tough game," Martin said. "Both teams were very aggressive and played hard. There were tons of fouls. We shot 37 free throws and they shot 29. We were in foul trouble most of the night. We really hung in there and fought hard all game."
Burkhart led the Bulldogs with 13 points. Jones added 11, while sophomore Kailyn Smith scored 10 points in the victory.
On Friday night, the Bulldogs opened the season with a 62-44 win at Santa Fe Trail. They led 8-2 early and never looked back Friday. Behrens scored 14 points in the win. Burkhart and Kehl added 11 points a piece. Howard also scored 10 points.
Baldwin will play in the championship game of the Anderson County Tournament at 5:45 p.m. Friday against Louisburg. The game will be played at the high school.
"We've talked about playing for championships and this is our first one," Martin said. "We're in the place we want to be and now we'll see how well we play."
The Bulldogs will play their first home game of the season Tuesday. They host Paola for a six-game night. The varsity boys will start at 6 p.m.