Nicaragua mission accomplished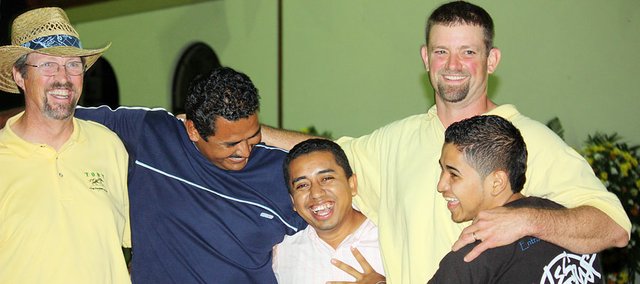 A small group of Baldwin City and area residents helped build an addition to a church in Nicaragua, but it was the human relationships they built that made the recent trip memorable.
The 11 individuals from northeast Kansas traveled to Jinotepe, Nicaragua, as a group of missionaries. Baldwin City's Jim Borgeson, who was taking his fourth-straight annual trip as part of the Toby the Horse ministries, led the group.
"The trip has been different each time I've gone," Borgeson said. "It's been a great trip each time. I've really enjoyed going there each year. We've always been very welcome to come. They are very friendly toward us and thankful for anything we can do for them."
Borgeson rounded up Baldwin City, Lawrence and rural area residents for the trip, which started Nov. 12 and ended Nov. 20. Seven members were from Worden Methodist Church.
"Our main two reasons for going were to build an addition on to the church and hold vacation Bible school for approximately 150 kids," said Baldwin City resident Susan England. "Our main goals were the construction and the Bible school, but the construction is an afterthought for us. We made so many friends and our family grew so much with those people that the construction is a complete afterthought."
Baldwin City resident John Heckathorne, who made the trip with his daughter Colby Heckathorne, a 2008 Baldwin High School graduate, shared the same sentiment about the mission.
"That was one of the true blessing of the trip," she said. "Not only could I work with the people, but also have my daughter there with me. She also speaks a little bit of Spanish, so that made it easier with the host family who we stayed with to converse.
"It was a tremendous blessing and very humbling. We were working with people who have very little in what the world would consider materialistic things. They love God, and they were a happy, loving people. They were very welcome to us. I couldn't have felt more comfortable."
Heckathorne headed up the construction side of the mission. He led the group in building Sunday school rooms, an office and bathrooms on the backside of the church.
The workers laid block for the outside of the expansion, but they also had to include hurricane straps on the inside. They also mixed all of the mortar and cement by hand.
"For me, it was very different," England said. "I do medical transcriptions, so I sit in the office all day long and don't do manual labor."
It was the other part of the mission that touched the lives of the missionaries. They spent numerous hours with the natives and took away memories that were hard to put into words.
"We went with the idea that we would be helping these people and we were glad to help them more than we ever could have thought we blessed them," England said. "It was incredible being around these people. They were extremely happy we were there and very gracious. They were very hospitable. They couldn't thank us enough. It was an amazing experience. I'd do it again in a heartbeat."
Heckathorne agreed with her.
"I think if you were to ask everyone who went, they would go tomorrow if they had the opportunity," he said. "It was very rewarding."