Lied Center concert to feature former Baldwin City resident Joyce Castle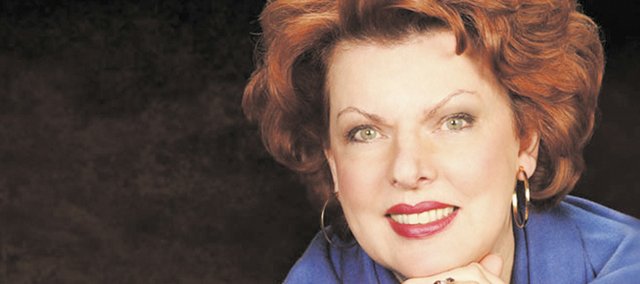 The Lied Center of Kansas will present mezzo-soprano Joyce Castle performing "The Hawthorn Tree" and other works at 7:30 p.m. Wednesday, Jan. 26.
Castle, a professor of voice at Kansas University, former Baldwin City resident and a KU alumna, will be accompanied by KU faculty musicians Mark Ferrell, piano; David Fedele, flute; Margaret Marco, oboe; Peter Chun, viola; and Larry Rice, bass.
Castle is celebrating 40 years of performance in the 2010-11 season. In the past four decades, she has established herself as a versatile artist with a repertoire of more than 130 roles in works by composers ranging from Bernstein to Wagner.
"I am thrilled to be back at the Lied Center," said Castle in a webcam interview with the Lied Center viewable at lied.ku.edu. "I was fortunate to open the Lied Center in its chamber music series in 1993. I sang with Pat Wise and David Holloway, two other alumni, with Robert Hiller playing the piano."
To commemorate her ruby anniversary, Castle will perform "The Hawthorn Tree," a new vocal chamber song cycle written specifically for her by National Medal of Arts and Pulitzer Prize-winning composer William Bolcom. "The Hawthorn Tree" features seven poems written by women and an original score composed by Bolcom for mezzo-soprano, piano, flute, oboe, viola and contrabass.
"Joyce Castle is one of our time's most incandescent acting singers," said Bolcom. "She can make you laugh out loud or scare you to death by turns as she wishes. When Joyce asked for a cycle, I was delighted with the prospect, of course, but realized that it would be a challenge to find texts to encompass her enormous expressive range."
Castle was raised in Baldwin City. In an 2001 interview with The Signal, she said, "The (Baldwin City ) community has always been behind me, applauding all the way. I have always felt that growing up in Baldwin helped me greatly in rooting me to the earth, to nature, to friends, to the church to what really matters. I am very grateful to the Baldwin community. Thank you, again and again."
She received a bachelor's from KU and a master's from the Eastman School of Music. Castle teaches and pursues her professional career simultaneously. She has appeared in contemporary opera and French, German, Italian, crossover and standard repertoire, and has recorded a variety of 20th century music. Her voice, stage presence and talent as an actress are praised worldwide.
The concert is free and open to the public and a reception will follow. Donations will be accepted in support of the KU Opera Endowment Fund.
While in Lawrence, Bolcom will conduct master classes in composition and voice to KU students.