Bulldog wrestlers set to begin season Saturday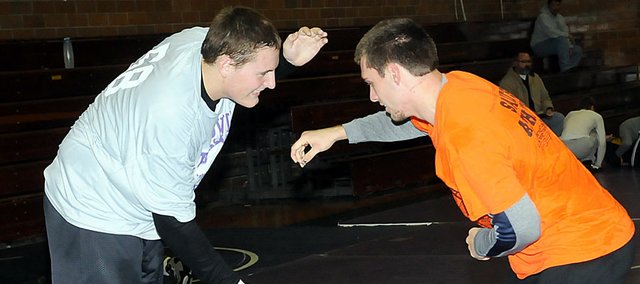 Although Bryce Shoemaker is the only returning state medalist, he thinks this might be Baldwin High School's year to bring home a state wrestling team trophy.
Shoemaker enters his sophomore season as the returning 103-pound state champion. He will be moving up two weight classes this winter, and his expectations for the Bulldogs have grown, as well.
"It should go pretty well," Shoemaker said. "This should be one of the best years as a team during my high school career. We want to be one of the top three teams in the state. We just have to have the right guys perform, but that's way later on in the season."
Coach Kit Harris also believes his squad has a chance to be special.
"I told the guys today that we are a good team and we can become a great team, but that will depend on some factors," Harris said. "It's definitely a possibility this year."
Right now, a lot of the pressure might fall on Shoemaker. His 42-4 record as a freshman and state championship turned some heads a year ago. However, this year will be a different test for Shoemaker.
He will be wrestling at 119 pounds, which will challenge him all season. Louisburg's Austin Hood and Prairie View's Bo Newport are preseason ranked No. 1 and No. 2 in the 119-pound weight class. Shoemaker is ranked No. 3.
"He's bumping up two weights," Harris said. "There are some tournaments where that's going to be a really tough weight class. At Eudora, there will be five returning state finalists from 4A, 5A and 6A. It's a tough weight in 4A alone. He will have his work cut out for him, but he's up for the challenge."
Shoemaker said he wasn't placing any additional pressure on himself to repeat as state champion. He is just focusing on wrestling well this season.
"There is some pressure, but I can't go out there thinking about that," Shoemaker said. "I just have to wrestle. My dad told me, 'the target is on your back this year and they will be going after you, so you've got to be the one going after them although you have the target on your back.' I've got to be more ready this year. Whatever happened last year is last year. Everyone is 0-0 this year. Rankings don't mean anything."
The remainder of the Bulldog roster is filled with a handful of upperclassmen and experienced wrestlers. Four Bulldogs, besides Shoemaker, qualified for the state tournament last February. They were junior Andrew Morgan, senior Colby Soden, senior Greg Schiffelbein and senior Will Von Bargen.
Other experienced wrestlers on this year's team include junior Cody Sellers, senior Keenan Coffey, senior Adam Christian and junior Colton Bonner. Freshman Tucker Clark will also join the mix.
"This team has probably shown more improvement from grade nine to grades 11 or 12 than any other team I've had here," Harris said. "A lot of that is because many of these guys were wrestling varsity as freshmen, which was a struggle for them, but it's paying off now."
Baldwin will begin its season Saturday at the Gardner-Edgerton Invitational. The tournament starts at 9 a.m.
"I'm ready to start Saturday," Shoemaker said. "It should be a good year."