BHS

boys basketball players ready to improve from last year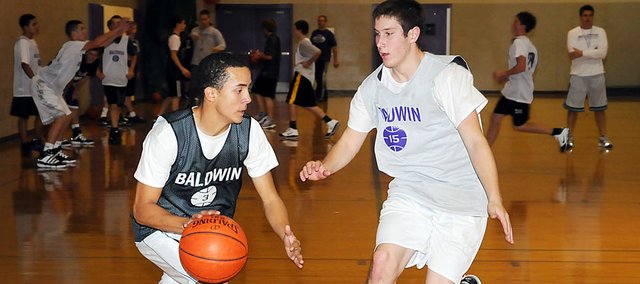 With a cast of returning players to compliment his 6-foot-9-inch senior Justin Vander Tuig, Baldwin High School boys' basketball coach is hoping to improve on last year's 6-15 record.
Vander Tuig, who has been the centerpiece of the Bulldogs' team during his first three years at BHS, will once again be playing that role. However, his teammates have grown older and matured with him, and they are ready to show opponents a new Baldwin team this winter.
"We all know that Justin is a big part of the team," senior Kyle Pattrick said. "When he is open, we will give him the ball and we know he will score. We think that we can do very well this year with the team that we have. We lost a couple seniors, but we return a lot of guys. I think we should have a good season."
The Bulldog coach has already seen an improvement in his players' growth during the first three weeks of practice.
"We have a lot of guys back, and I can really see a difference in our kids physically with just another year of growth," Toot said. "They're stronger and more filled out. I just see a maturity level in a lot of them that wasn't there last year.
"Most of them who were in fall sports had a lot of success. I think that has carried over and that always helps. It's been a good start to the season."
Vander Tuig's height has given opponents problems during his first three years. During the first weeks of practice, Toot said the senior center has displayed an aggressive side.
"Justin has been tremendous," Toot said. "This is the best preseason I've seen him have in four years. He's really taken the leadership role on for this team. He was elected the team captain after the first week of practice."
Vander Tuig will have help inside from a pair of sophomores. Caleb Gaylord and Dayton Valentine will give the Bulldogs' three legitimate post players, Toot said. Valentine is still feeling the effects of a football injury, but he might be ready for the opener Friday.
Pattrick was the other team captain chosen by the team and will be the Bulldogs' point guard this winter. The other guard spots will be played by a handful of Bulldogs, including senior Nate Growcock, junior Asher Hannon, junior Britton Schroeder, junior Chip Kueffer, junior Tucker Brown, sophomore Tyler Cawley and freshmen Cornell Brown and Chad Berg.
"We have a very nice mix this year," Toot said. "We have kids who have specific roles, and I think we'll be able to throw different line ups at people. It's made practice very competitive, even with us missing some of our top contributors."
Toot has altered his offensive philosophy to fit this year's team. He hopes it will be an athletic and quick team, which might make for more up-tempo contests.
"We are trying to play quicker this year," Toot said. "We want to push the pace and get easier buckets. I think we have a faster and more athletic team this year so we should be able to do that. I think we have the ability to score better than we have in the past."
As for the players, they hope the success of fall sports continues.
"We are having a lot more fun this year," Pattrick said. "Every practice, we come out and work hard, but it's still fun. I think the success of the fall seasons should carry over to the winter. Everybody wants to win."
Baldwin will begin its season Friday at Santa Fe Trail. The junior varsity team will start at 4:30 p.m. with the varsity expected to start about 7:30 p.m., following the girls' varsity game. BHS will also play Burlington and Iola at Anderson County on Monday and Tuesday.
"I'm ready to get going," Toot said. "We have a good road test. Santa Fe Trail is coming off of a good season, and they have some starters back. It will be a good test for us. I'm excited to play Santa Fe Trail again. It's a team we should be playing. They are close and about the same size school. It's a great game for us to be playing."