Baker women's soccer beats William Jewell, advances to Fab Four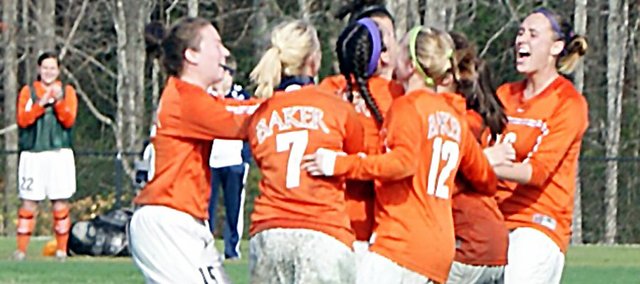 DECATUR, Ala. – The Baker University women's soccer team continues to live the dream.
The Wildcats defeated William Jewell by a commanding 5-2 decision on Thursday to advance to the NAIA Women's Soccer National Championship Semifinals.
Junior forward Alix Schiraldi netted a goal in the seventh minute to spark the Wildcats. Ten minutes later, senior midfielder Christine Janssens scored to give the Wildcats a 2-0 advantage.
"I was thinking just run to the correct side of the field after I scored," Janssens said. "It was obviously huge for our momentum, but honestly I just wanted to make sure I was celebrating on the right side of the field."
Just when the momentum seemed to be shifting in the favor of the Wildcats, William Jewell connected on a corner kick from Annie Shepard. It didn't faze the Wildcats, though. Sophomore midfielder Jordan Dolbin netted a goal to give Baker a 3-1 advantage less than six minutes later and Baker never looked back.
William Jewell scored its final goal in the 75th minute on an unassisted goal from Sali Stout.
Dolbin scored her second goal in the 82nd minute, blasting a free kick into the net. Schiraldi netted her second goal just over a minute later on a cross through the middle of the box on assist from Ashley Ukena as Baker secured a spot in its first ever NAIA Women's Soccer National Championship Fab Four.
"Ukena set the ball up perfectly for me," said Schiraldi. "Ashley did all the work. It was perfect."
Baker had an 11-to-6 advantage in shots on goal with Schiraldi accounting for six.
Goalkeeper Maggie Dupes followed up her shutout performance against No. 5 Martin Methodist with four saves on six shots.
"Our girls continue to grind away," Wildcat head coach Nate Houser said. "Hopefully we can keep this momentum rolling into tomorrow afternoon."
The Wildcats have now defeated six of seven ranked opponents dating back to Nov. 2.
Baker will return to action at 2 p.m. on Friday against the winner of the William Carey (Miss.)-Hastings (Neb.) quarterfinal match.
It will be the first time Baker, Hastings or William Carey will be one of the remaining four teams playing in seven combined trips to the National Championship.