Young musicians learn from students through lab school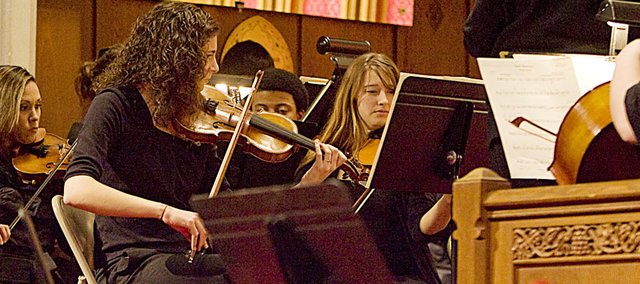 For nearly 20 years, Baker University's music department has been providing music lessons to people of all ages through an outreach program called Music Lab School.
Trilla Lyerla, professor and chair of the music department, helped found the program and coordinated the lessons before passing the baton to Lori McKinney, adjunct instructor of music.
"There was a need in the community for a music program in which the faculty and students connected with the local and area residents," Lyerla said of starting the program in 1991. "We would get phone calls wanting to know if we could teach lessons. In the early years, Baker University provided scholarship money that was matched by the Baldwin Community Arts Council that helped provide scholarships for children to take lessons."
Lyerla estimated that the program has served more than 600 budding musicians, including some repeat students. Some of the musicians join the program as early as age 2 and continue through their high school years.
With recommendation from their studio teacher, Baker music students are selected to instruct the young musicians. Most of the one-on-one lessons are held at the Owens Musical Arts Building. Most of the students are working on degrees in music education or a Bachelor of Arts in music.
"The teacher is there to monitor their teaching and observe occasional lessons throughout the year," McKinney said. "They receive assistance in refining their music teaching skills. These children learn to love their teachers and it is very enjoyable to watch the interaction."
The objectives of the program are to foster a love of music, positive musical growth, develop poise, experience and confidence. Lessons usually last 30 minutes.
"It is an opportunity give a child the gift of music through dedicated teachers who want to share their gifts and talents with others," McKinney said.
The lab is now accepting enrollments for fall semester in piano, violin, viola, cello, flute, trombone, sax, clarinet, trumpet, voice lessons, percussion and guitar.
The musicians are also encouraged to perform in December and May at McKibbin Recital Hall.
"It's good for the community, good for the students and good for Baker," McKinney said.
For more information and rates of the program, contact McKinney at (785) 594-8383 or e-mail lori.mckinney@bakeru.edu.