Wildcats kick off season Saturday at Ottawa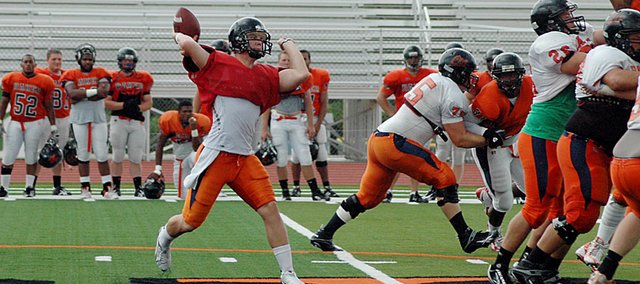 Mike Grossner is anxious but nervous for Saturday's season-opening football game at Ottawa University.
The seventh-year head coach of the Baker University football team has several concerns about his No. 24-ranked Wildcats facing No. 9 Ottawa. At the same time, Grossner is excited about the atmosphere and ready to see how his team performs in the first contest of the season.
"We're trying to get their legs back a little bit," Grossner said. "We had practice No. 17 today. So we've been hitting it hard for a week and a half. We've got some great work done, but we have to get them back to having fresh legs. There is a fine line going into that first game — do you have them in shape or do you have them tired?"
The Victory Sports First Down Classic will begin at 6 p.m. Saturday in Ottawa. It will be the first time Baker and Ottawa have played each other since 1993.
"It's going to be a great atmosphere," Grossner said. "It's a preseason bowl game with two top 25 teams. "Both schools are ready to face each other. It's been a long time coming. We know each other pretty well and played against each other in the summertime."
On the opposing sideline will be one of Grossner's former teammates. Kent Kessinger, Ottawa head coach, played center as a freshman when Grossner was a senior at Bethany College in Lindsborg.
"Kent and I are good friends," Grossner said. "We played college football together. His dad coached me in college."
The game is also a week earlier than Baker normally opens its season, thus providing one less week of preparation. All of that has combined to make Grossner nervous for the opening contest.
"There is still a lot of anxiety," he said. "When you go into the first game, you worry about so many little things, because you don't know how they're going to perform."
The Wildcats do have several question marks after losing a senior class that holds several school records, primarily on offense and special teams. The primary one, the quarterback position, hasn't been nailed down to one player. Mack Brown graduated last May after starting all four years at Baker.
Freshmen Zach Faust and Jake Morse are the two leading candidates. Faust red-shirted a year ago for the Wildcats, while Morse transferred from the University of Kansas. So far, neither has locked down the starting job for Saturday.
"I haven't named one," Grossner said. "I've kind of taken the approach to playing both. I rotate them every four snaps in practice, no matter what's going on. My dream there is to make them both feel like they are the starter so they will both perform at a high level when they are in there for us.
"I think early on there was a competition going on to see who could make a big play to look better," he said. "Now, they've settled in to figuring out how to make the team better. They are both competitors who have the ability to move our team into the end zone. I think our team is rallying around both of them, which is good."
Baker also lost its star running back, Richie Bryant, after last fall. On Tuesday, Grossner said freshman Scott Meyer has earned the starting job. The Wildcats' other weapon last year was kicker Derek Doerfler. To replace the school-record holding kicker, Grossner is looking to freshman Jared Morss.
Despite all of the unknowns about Saturday's contest, the Wildcats' coach understands the game comes down to simple elements of football.
"It always comes down to special teams and turnovers," he said. "If you play great defense, you have a chance to win. There's rarely a game played that if you lose the turnover margin, you win the game."
He wasn't about to make a prediction on the game, but said he hopes his players fight hard all game, especially when their backs are against the wall.
"I can't sit here and say I hope we play perfect, because we've got too many guys playing their first collegiate game," Grossner said. "However, I hope we respond to adversity. I'm more interested in seeing how we respond to adversity during the game. If it doesn't phase them, I'm OK with it."
More like this story