Top five runners return for Baker cross country team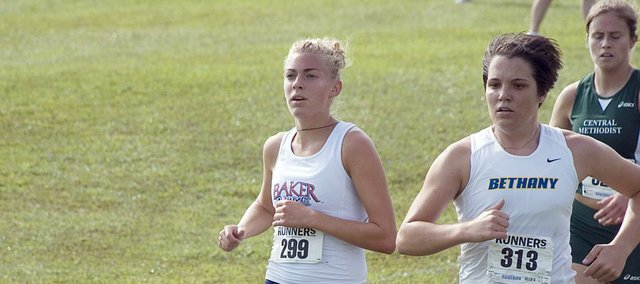 Baker University cross country coach Zach Kindler is thrilled the 2010 roster resembles the 2009 list of Wildcat runners.
The Wildcats return their top five runners from the men's and women's squad. Kindler, entering his fourth season at Baker, hopes the experience of placing fourth in the women's Heart of America Athletic Conference meet and fifth in the men's HAAC meet carries over this fall.
"They all became stronger runners during the track season," Kindler said of the women's squad. "We have the possibility of winning conference. This is definitely one of the stronger teams since I have been here."
Back for the women are the top five placers from last year's HAAC meet. Corinna Papps, Devin Freeman, Molly Schmeidler, Lindsey Brown and Mary Loveland finished 16-18-19-21-27 a year ago. Papps, Freeman and Brown are sophomores, Schmeidler a junior and Loveland a senior.
"They are competitive and want to win conference," Kindler said. "It is my job to get them prepared for a championship run. They are fired up and working hard. We hope to build on that enthusiasm."
The men's top five runners last year were all freshmen — Corey Clark (11th at HAAC), Taylor Nall (22nd), Parker Bryant (24th), Eric Larson (33rd) and Aaron Caldwell (36th). Also back is junior Chris Scheideman, a redshirt last year and the Wildcats' likely No. 1 runner this fall.
"We always like to see the sophomores make a jump after their bodies adapt to an 8K race," Kindler said.
Kindler is pleased with the depth on both squads. The combined rosters have 31 runners.
"It shows the direction we're moving toward," Kindler said. "We are competitive in cross country and track."
Kindler believes his runners have the strength to compete against stronger teams. The Wildcats will run at bigger meets at the Southern Stampede in Joplin, Mo., OSU Jamboree in Stillwater, Okla., and the FHSU Open in Hays.
"Our kids will see fast runners at these meets," Kindler said. "We hope it helps with the rankings."
The HAAC championship will be held Nov. 6 in Baldwin City.