Students, faculty, staff take pride in volunteer efforts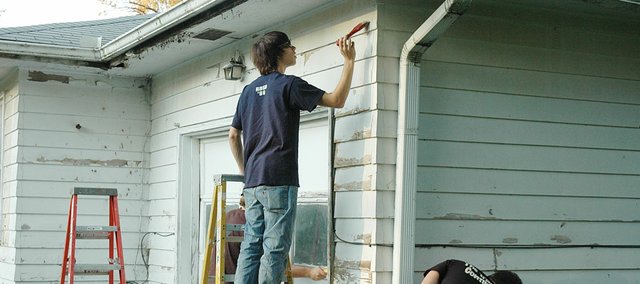 Baker University students, faculty and staff take pride in helping Baldwin City and the surrounding communities with an array of volunteer efforts.
Responding to a community's diverse interests, whether it involves civic, church, arts and health care organizations, is common at Baker, especially for students, said the Rev. Ira DeSpain, campus minister.
"Most of the students I know come to college with community service already a major part of their life through their high school and their church activities," DeSpain said. "It is a part of their culture. I have a lot of people asking me what they can do to help rather than me having to find people to help with projects."
Undergraduates in the School of Education on the Baldwin City campus work closely with schools in the Baldwin district.
"The School of Education requires community service hours before a student can teach," DeSpain noted. "All of their volunteer hours are done at the Baldwin School District."
Among other organizations and events that have several Baker representatives are Habitat for Humanity, Headquarters, Neighbors Helping Neighbors, Community Wellness Festival and leaf raking.
"Students are ready and willing to jump in at anytime to help," DeSpain said.
Last year, the students stepped up in a national campaign, raising $1,790 for Nothing But Nets to purchase mosquito netting to help combat malaria in Africa. The University and its cooperating church, Old Mission United Church in Fairway, Kan., combined to raise more than $3,500.
For eight years, Baker University has partnered with the Baldwin City Recreation Commission to organize the Community Wellness Festival. The event, which attracts 70 exhibitors and more than 300 people, is usually held the last Saturday of March at the Collins Center. The festival will provide free screenings for blood pressure, posture check, body fat, bone density, hearing, lung volume vision and dental.
"We've had some success stories from all of the screenings," said Ruth Sarna, director of student health services and festival organizer. "If we can find something that tells us you need to check with your medical provider to seek further evaluation, that's a key to preventive health care."
In the spring, DeSpain is looking forward to a return trip — for the 19th year — to Gulf Shores, Ala., to help with a Habitat for Humanity project and work at a wildlife refuge.
"It will be interesting to see what sort of work there is for us this year, especially with the oil spill in the Gulf of Mexico," DeSpain said.
DeSpain also enjoys the work provided by students closer to home through Neighbors Helping Neighbors. Students help spruce up homes through painting.
"It improves the look of the community and improves the value of the home," he said. "The people who live there really need our help. If we hadn't been there, then nothing would have been done."