Professor awarded distinguished honor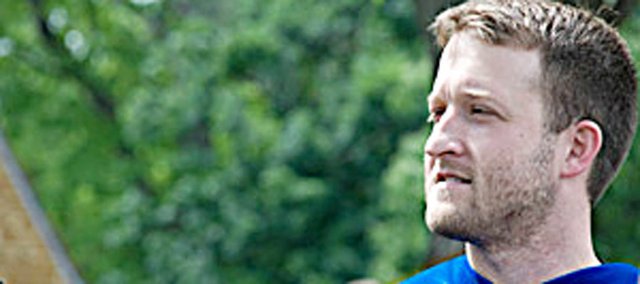 Jacob Bucher believes experiences outside the classroom enhance the experiences inside the classroom.
For the past two spring semesters, the Baker University assistant professor of sociology has led a group of students to the Topeka Correctional Facility, where they interact with inmates to learn more about the criminal justice system as part of the Inside-Out Prison Exchange Program.
Earlier this year, one of Bucher's classes partnered with senior citizens at the Lawrence Senior Center.
"Baker students seem to appreciate the opportunities outside of the classroom and being in a new environment," Bucher said. "It adds some reality to their learning. In sociology, I always use the phrase 'Our lab is the community.' Getting them to see things and experience things is important and something I believe in. "
For his efforts, Bucher was honored in May with the Jennie Howell Kopke and Verda R. Kopke Award for Distinguished Teaching Award. It recognizes a faculty member, without regard to rank or years of service, who has a record of excellence in teaching and in transforming students into scholars, who brings honor to the University and who exhibits good moral character. Recipients also receive a $5,000 cash award.
Inspired by a NPR series, the students and senior citizens collaborated on an essay titled, "This We Believe." Several of the students interacted with the senior citizens outside the senior center, meeting at their house or going out for coffee.
"The seniors said they appreciated being exposed to members of the younger generation with solid values and who possessed an ability to think," Bucher said. "They had conversations about death and dying. A lot of 18- to 20-year-olds are not thinking about that process. The students received a better sense of the material in the classroom by meeting with them."
The incarcerated women at the Topeka Correctional Facility have told Bucher of the importance of the class to them.
"It has been very fulfilling for the inmates," Bucher said. "They talk about being starved for knowledge and being treated like a person in the class. They realize they do have intelligent ideas and something to offer to conversations and a lot of personal growth."
Bucher plans to continue with Inside-Out Prison Exchange Program in spring 2011.
"I like the collaboration and how the students are there to talk together, learn together, work on projects together," he said. "We're not there as charity work. The prisoners have to do the same work as the Baker students."
He also has plans for students to work with guest residents at the Lawrence Community Shelter.
"These experiences are all about personal growth and gaining new perspectives," he said.