HAAC

player of year keys Wildcat volleyball team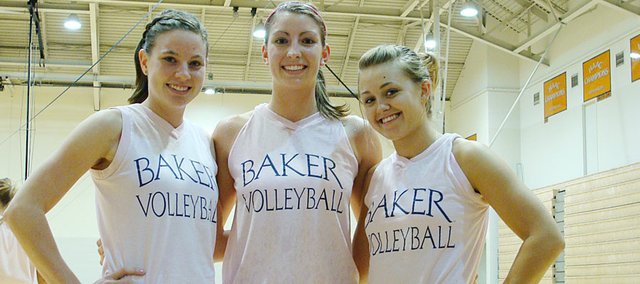 A roster relatively intact from last year's record-setting 32-4 season has Baker University volleyball coach Kathy Allen beaming with enthusiasm for 2010.
"This will be the most talented and deepest team in my 13 years at Baker," said Allen, who has compiled a 263-150 record leading the Wildcats. "We also have a lot of size and game smarts."
Back for the Wildcats is senior 6-foot outside hitter Brooke Pryor, the reigning Heart of America Athletic Conference player of the year and a third-team NAIA All-American in 2009 after ranking 10th nationally with 4.2 kills per set.
"On top of being extremely athletic, she's tall, very talented and a really strong competitor," Allen said. "She has winning in her blood and gets everyone else thinking the way she thinks."
Junior Brooke Allen also returns after ranking third nationally (6.8 digs per set) and earning HAAC conference libero of the year honors.
"She is lightning quick and very experienced," the Wildcat coach said of her niece. "She reads the ball off the block really well and fundamentally one of the best players I have ever coached."
Second-team all-HAAC picks Jana Boss, a sophomore setter, and Christina Delladio, a junior middle hitter, will complement the offensive attack.
"Christina had a big impact last year and has really matured," Allen said.
Other key returning players are middle hitter Kelsey Wise, defensive specialist Kelsey Cobb and setter Kelsey Allen.
"Kelsey Cobb and Kelsey Allen will hold down the back row," Kathy Allen said.
Two transfers from Johnson County Community College will provide more depth for the Wildcats. Sydney Pemberton is a 6-3 right-side hitter and Bobbi Pearce is a defensive specialist. Savannah Smith, a transfer from Harding University, provides more depth at outsider hitter after setting out last fall.
Despite last year's 30-plus victories, the Wildcats remained on the cusp of the top 25 rankings. To enhance their consideration for the national poll, Allen has entered the Wildcats in more competitive tournaments.
"Our goal this year is to break into the top 25," she said. "The only way you do that is play nationally ranked teams and we have strengthened our schedule enormously this year."
The Wildcats will open Aug. 27 in San Diego with matches against the No. 2, No. 7 and No. 15 in the NAIA. The following weekend Baker heads to the Bellevue tournament in Omaha, Neb.
"You have to play tough teams to get noticed in the poll," Allen continued. "The teams in the top 10 are so incredibly strong. Our record may not be as stellar as last year, but we could end up better nationally because of the caliber of competition."