Fluke is living the dream of a 'Tiny Dancer'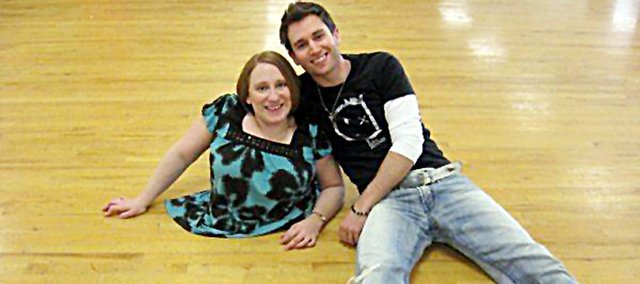 Physical limitations may have kept JoAnne Fluke from participating in certain activities as a child, but now she's using her abilities to pursue her dreams.
When Fluke was born, doctors only gave her 72 hours to live. She was born with a rare birth defect in which the bottom half of the spine is missing. She has tiny webbed legs that she can't use or control.
Standing on her hands, she reaches a height of 28 inches tall, but Fluke is working toward becoming a professional dancer. The 34-year-old Baker University graduate's dreams of dancing began a couple of decades ago.
"When I was a little girl, I had always dreamed of being the first Little Orphan Annie on Broadway," said Fluke, an Ottawa resident.
Those dreams would be hard to achieve. Her parents had trouble finding anyone in the Ottawa area willing to teach her. Instead of settling for failure, Fluke taught herself how to dance.
Fluke watched video after video to teach herself the art of dance. In sixth grade, she entered a city talent show. She finished runner-up in the competition.
"I watched a lot of videos," Fluke said. "The song I did in the talent show was '(I've Had) The Time of My Life' from Dirty Dancing. I watched that part of the movie about 1,000 times, it seemed like. I love that song so I had to figure out how to look that good. After I took second place, that's when I realized I could dance."
Fluke continued to dance in middle school and high school talent shows. She would dance on her hands at the talent shows. Her favorite dances of the time included the "running man" and "roger rabbit."
In 2007, Fluke discovered wheelchair ballroom dancing, which has become her new-found interest. Since then, she helped found a nonprofit alternative dance troupe called Groovability in Kansas City, Mo., where she serves as the executive director. There are nine dancers and four able-bodied instructors in the program.
"It's a wheelchair ballroom dancing group," she said. "It's actually getting ready to expand to a little bit more hip-hop and zumba. We hope that the documentary will spark some more interest around the country."
Fluke and other Groovability dancers participated in the Heart of America DanceSport Championships in Kansas City, Mo., two weeks ago. Fluke and her partner, Brandon Lee White, finished first in six of the seven dances.
She was more excited that she wasn't the only wheelchair dancer from her local troupe.
"We just finished a national competition recently in Kansas City," Fluke said. "I was not the only Groovability dancer and it was so amazing watching them realize they had accomplished something. That's what made my heart swell. It wasn't just me anymore."
It was Groovability and Fluke's story that sparked interest from The Learning Channel. The television station ran a program about someone who has a similar birth defect as Fluke. The producers wanted to find someone else with a comparable story.
After searching the Internet, they contacted Fluke. Producers from the station came to Ottawa and Kansas City in February. They came back in March after she had a month to practice with her new dance partner, White. On the second visit, they also followed her during her daily routine to work and to her church, where she sings on the worship team.
"I loved the crew," Fluke said. "I loved Nine Lives. They became part of my family during those two weeks. They really made me feel comfortable with everything."
The hour-long TLC program "Dancer with Tiny Legs" aired Sunday. After watching the show, Fluke was ecstatic.
"It was amazing," she said. "They did a wonderful job. I cried at the end. I told myself I wouldn't cry at my premiere party, but I cried at the end of it. It was an amazing experience to watch the emotions come through during the last minute of the program."
She watched the show with 40-50 of her closest friends and family members. Since the show aired Sunday, Fluke and White have been bombarded with e-mails and Facebook friend requests.
"I have to admit, I've been surprised with the number of e-mails and Facebook requests or comments," Fluke said. "We've had people contact us about helping them dance or about pursuing their dreams. We are taking the time now to respond, especially to the e-mails. As far as dancing, we want to compete on the world level, which means we have to keep dancing at the national level first. We also want to help others do what we do, because it's an amazing experience."
For now, she will keep pursuing her dream and hopes everyone else will, too.
"It's really hard for me not to say something when I see an individual that is letting a disability get in the way of their dreams," she said. "I hope everyone follows their dreams and doesn't let anything get in the way of their dream."