BHS

volleyball squad ready to improve from last fall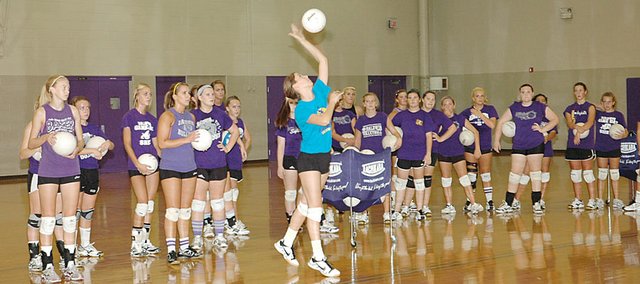 Changing the mentality and producing wins has been a theme of the Baldwin High School volleyball team for several years in a row, but this year's seniors are bound and determined to make it happen.
During the past three seasons, the Bulldogs have won 15 matches. Their six wins a year ago were an improvement from the previous two years, but nowhere near what the players and coaches wanted to achieve.
Ramie Burkhart is one of the two seniors who have started every year at BHS. Lyndsey Lober is the other, but she is sidelined while recovering from a knee injury she suffered in the spring. Both seniors are trying to make this the year that BHS volleyball returns to its winning ways.
"I've obviously had three years of losing," Burkhart said. "We've been OK, but we haven't gotten over the hump to get a few more wins. All of the seniors are ready to start winning and we're trying to make that happen."
To help change the mentality of the program, coach Kelly Brown has tried to instill in her players that losing is no longer acceptable. She has made the players run during the middle of a drill if things aren't done properly.
Burkhart said her method has resulted in the Bulldogs playing harder in practice and working to improve.
"I think we are actually looking a lot better at the beginning of the season than we did last year," Burkhart said. "This year we are focusing on protecting our court and nothing hits the floor during practice. If the ball hits the floor, we have to run a suicide. That's made the girls hit the floor more and made us go after balls we usually wouldn't try for. So that's been helping us work harder in practice."
The Bulldogs' coach has even seen the changes during the first two weeks of practice this fall.
"Their attitudes have changed," Brown said. "They have also been working a lot harder in practice than they ever have. I think that those two things combined will help them get over the hump this year."
During the preseason practices, the Bulldogs have been primarily working on fundamentals of the game. Although it's basic, the squad has been hard at work, according to Burkhart.
"A lot of people are ready to win and we are willing to do whatever it takes to win," she said. "Our practices have been more upbeat and we've been working harder than usual. We're not laid back at practice. We are more prepared for anything that could happen during a match."
She is just one of five seniors on the team this fall. The others are Lober, Lindsey Roberts, Lea Wieden and Claire Glover. The BHS varsity juniors are Kaysha Green, Lakyn Clark, Madeline Brungardt and Paris Nottingham.
A pair of sophomores and freshmen will also see varsity time. The sophomores are Monica Howard and Katie Kehl. Morgan Lober and Madeline McCrary are the varsity freshmen this fall.
"We have really strong upperclassmen this year," Brown said. "Our seniors and juniors have come out and done some great things. We have a few younger ones that will also contribute. Only time will tell how much everyone plays right now."
The Bulldogs will host a scrimmage against BHS alumni on Friday. It will start at 5 p.m. at BHS.
"I think the scrimmage will show us a lot," Brown said. "It's also nice to get out in uniform with officials. We've got Ted Zuzzio and Steve Friend officiating and we're very thankful for their help. If we get them out there in a game situation against the alumni, then we can see where we are at and what we need to work on as a team."
Baldwin will open its season Tuesday with home matches against Basehor-Linwood, Bonner Springs and Eudora. The matches will start at 5 p.m. in the BHS gym.
"We have a lot of things to work on during the next week before we step on to the court," Brown said. "Hopefully, we can get all of those bases covered and the girls keep coming to practice working hard with good attitudes. If that happens, we'll be ready to go."