BHS

soccer team opens season with Chieftains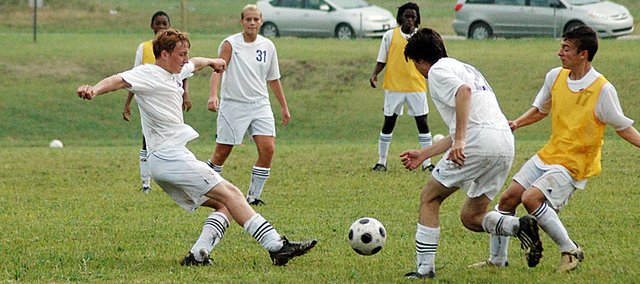 While this year's Baldwin High School soccer team will look quite similar to the 2009 squad, there will be a difference in philosophy from the head coach.
A year ago, former coach Matt McCune stressed defense first. His Bulldogs tried to protect their goal and tried to find scoring opportunities when available.
This fall, first-year coach Mark Joslyn is trying to instill a different philosophy on his group of Bulldogs. He hopes their offense puts the other team in a defensive mode this season.
"I hope we score lots of goals," Joslyn said. "That's our philosophy. We want to attack and take more risks. We'd like to attack more and see what will happen."
The Bulldogs have an opportunity to score more goals than last fall as they return their leading goal scorer, junior Caleb Michels. He will once again be one of the forwards and his coach is looking for a solid season from Michels.
"We expect very similar things out of him," Joslyn said. "He looks very good in practice, too."
Two other players that might impact the offense are freshmen Duncan Murray and Russell Cloon. Joslyn said Murray has shown a natural ability to score during the Bulldogs' early season practices.
"I expect both of those freshmen to play quite a few minutes," Joslyn said. "They have had very good preseasons. I think Duncan will likely score more than a few goals for us. He's a natural scorer."
A handful of other BHS players return from last year's team. In the midfield, the Bulldogs bring back junior Zac Leeker, junior Louis Joslyn, junior Clint Chapman and senior Will Nitcher. All four played significant minutes a year ago.
Chapman and Joslyn were voted as the team's captains this fall. Chapman has impressed his coach during the first week.
"One player who's had a very good preseason is Clint Chapman," he said. "I think he will have a good season."
The Bulldogs' defense returns most of its 2009 starters. Those include senior Joey Cool, junior Shawn Berndt and sophomore Austin Kraus. Other players who will contribute on defense include senior Patrick Deitz, sophomore Max Combest and junior Dustin Wallace.
Joslyn feels comfortable about his defensive starters and has been pleased with Berndt's improvements.
"He's progressed and gotten a lot better," Joslyn said. "We think he should play a more prominent role on defense. We will be putting him at center-back. He will be in tandem with Austin Kraus. Their position is very important to the entire team. Joey Cool will be at right-back. He is good at aggressively taking the ball up the field from the defensive position."
One hole to fill from a year ago is in the goal. Shelby Arnold was the goalkeeper for more than two years, but he graduated last May. Two players have been battling for this year's spot.
Junior Cody Keener played goalkeeper for the junior varsity team last fall. He is the only returning goalkeeper. Sophomore Mason Bandre is a new student at BHS, but he is competing for the starting job.
"It's kind of an uncertainty right now," Joslyn said. "We have Cody Keener coming back. He's looked pretty good. He's pretty aggressive, particularly when coming out for the ball in a breakaway situation. We also have a new student-athlete, Mason Bandre. He's very long, tall with good feet and hands. So we're going to try him at goalie, as well."
The Bulldogs held a scrimmage Saturday morning to help determine positions for many of the players. Their coach was pleased with the results after three 20-minute periods. He wanted to see how the players reacted to a game-like situation.
"We got them in an 11-on-11 situation on the new field," Joslyn said. "Now we have to get ready for Friday, but I thought the scrimmage was beneficial."
He will need that knowledge when the Bulldogs open the season on Friday. They host Tonganoxie at 4 p.m. at the BHS field north of the school. The varsity will play first, followed by the junior varsity.
"I'm totally excited," Joslyn said. "We are going to try and have some pregame entertainment with music and starting lineups. We're trying to make it more of an event for the fans."