Ballard feels at home coaching basketball at Baker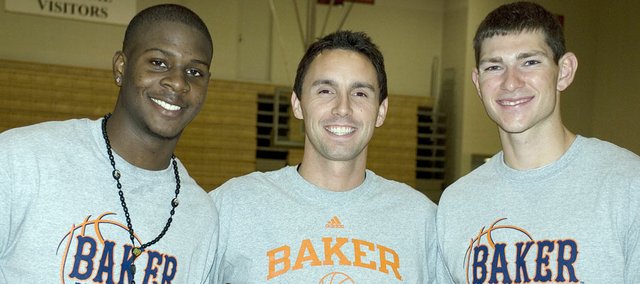 It did not take new Baker University's men's basketball coach Brett Ballard long to feel at home.
On his first official day as at Baker, Ballard greeted more than 50 campers at his first basketball camp on the Baldwin City campus.
"Everyone here has been so helpful, friendly and jumped on board with what we are trying to do here," said Ballard, named the head Wildcat coach in March after serving as director of basketball operations at the University of Kansas. "People around here have a great sense of pride in this university and a lot of people support Baker athletics."
In seven seasons working on Bill Self's staff at KU, Ballard oversaw the academic progress of Jayhawks, worked closely with the off-season strength and conditioning program, assisted with on-campus recruiting, team travel and team video. He also was director of the Bill Self basketball camp and coordinated and directed the Coaches Clinic, the Winter Clinic and the Wilt Chamberlain Special Olympics Clinic.
"Being around a tradition of winning has been good for me," said Ballard, a player for the Jayhawks during KU's run to the Sweet Sixteen in 2001 and the Final Four in 2002. "I learned from a coach who has been very successful. As director of basketball operations, I had my hands in so many different aspects of the program. That is certainly helpful coming to a place like Baker, where a head coach has to wear a lot of hats. A lot of things have to be handled by the head coach, which is fine."
Ballard succeeds Rick Weaver, who guided the Wildcat basketball program for 25 years before retiring at the end of the 2009-2010 season. Weaver's top assistant, Terry Zerr, plans to remain on Ballard's staff. Malcolm Greer, a standout for the Wildcats the past two seasons, plans to be a graduate assistant, Ballard said.
After being named the Wildcat coach in March, Ballard was able to meet with the returning players and outline a workout plan. The time together was beneficial for everyone involved, he said.
"Those guys are eager to learn," Ballard said. "They worked extremely hard and are excited about getting going. They are great listeners and have great work ethic. They are hungry to get this thing turned around."
As for style of play, Ballard likes an up-tempo brand of basketball.
"I want us to be in attack mode on the offensive end and look to score as quickly and early as we can," he said. "We will be primarily man to man on defense. You have to be a great defensive team to succeed."
Ballard is looking forward to the home opener on Nov. 13 against Ottawa University. He hopes the Baldwin City community will fill the Collins Center.
"I want them to see an unselfish team, a team that works extremely hard and a team that is disciplined," Ballard said. "If they leave the game seeing those things, most of the time the score will take care of itself."