Baker to face quality football opponents in early part of season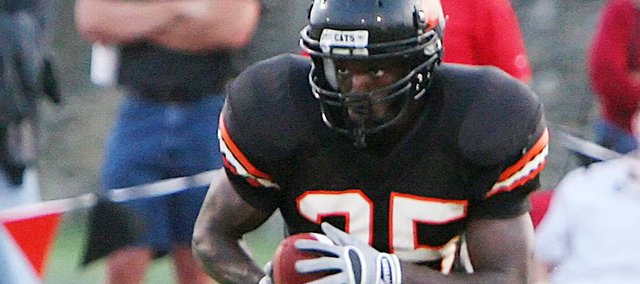 No. 24-ranked Baker University won't waste any time celebrating the 120th year of Wildcat football.
The Wildcats, 7-3 last season and a combined 15-7 in the past two years, will open against No. 8 Ottawa at 6 p.m. Saturday, Aug. 28, in the Victory Sports First Down Classic in Ottawa. Baker began its football program with a 22-9 victory over the University of Kansas in 1890.
Despite the loss of the Wildcats' all-time leading passer and kicker, plus the No. 3 all-time running back, coach Mike Grossner is optimistic heading into his seventh season leading Baker.
"We lost a ton of firepower and a ton of points," said Grossner, whose team closed 2009 with a five-game winning streak for the program's third consecutive winning season. "But we know we put together a great recruiting class last year and the majority of the guys we redshirted last season will be sophomores. They are good athletes who are going to have to step up and play."
Grossner has signed 43 recruits since last fall. He expects several of those players to contribute immediately.
"The one factor is conditioning," Grossner said. "Our team has to be in condition on day one in fall camp. We have one week of practice, then it's game week. I told our coaches we want to simplify and coach them hard, but we don't want to stunt their growth. I want to see what they can absorb, play to their abilities early and find out what type of football team we are as the season progresses."
After the opener in Ottawa, the Wildcats will play host to No. 10 Missouri Valley on Sept. 4 before meeting No. 6 MidAmerica Nazarene the following week in Olathe.
"We will be able to evaluate where we are and learn what type of team we are after playing three top 10 teams in the first three weeks," Grossner said.
Four players — KU transfer Jake Morse (6-2, 205) and redshirt freshman Zach Foust (6-2, 205) — are the top contenders to replace four-year starter Mack Brown (the Wildcats' leading passer with 8,278 career yards). San Diego freshman Jake Marrion and sophomore Sam Vossen also are challengers for the position.
"I think Jake Morris is going to be an exceptional player for us," the Wildcat coach noted. "Zach Foust is the No. 1 guy returning, has a real strong arm and is a student of the game. Sam Vossen greatly improved in the spring. We felt comfortable coming out of spring football we had two guys who could mature and possibly win games for us. Zach has got the strongest arm I have seen in a long time and Jake has outward leadership abilities and demands the guys work hard in practice."
At running back, Grossner is looking for John Babb, Aaron Terrell, Scottie Meyer, Kyle Rooks, Kiandra Germany and Xavier Lewis to share the rushing load. Richie Bryant, the Wildcats' top rusher the past two years, finished with 3,444 career yards and 40 touchdowns.
"John Babb has progressed and is doing some good things for us," Grossner said. "The question is durability, and we're not going to ask him to be like Richie."
Leading the way for the receivers is senior Austin DeGraeve (De Soto), sophomore Jake Green (Lawrence), Kiana Brooks (Grossmont CC) and Cole Buckman (Coffeyville CC transfer).
"We have some firepower and guys who can make plays for us," Grossner said.
For the first time in three years, Grossner is looking for a new kicker. Derek Doerfler, who set school records for field goals in a career (48), season (23), game (5) and distance (62 yards), has graduated.
"We will forever miss Derek Doerfler," Grossner said. "He did a lot for this football program. Not having Derek changes our offensive philosophy a little bit."
Through spring drills, Grossner was leaning toward former Wildcat soccer player Luke Haidarovic.
"He has worked and been endorsed by Doerfler," Grossner said.
Garrett Chumley, a redshirt junior, will handle the punting duties, and Caleb Johnson is back at long snapper.
The Wildcats return a lot of experience on the offensive line with four starters back — right guard Jake Miller, center Jordan Robertson, left guard Billy Chambers and left tackle Phil Collins. Aaron Reichek and Ian Autry are battling for right tackle position. Clayton Hill, Anthony Ciambrone and Pat Mirch also provide depth on the offensive line.
Defensively, the Wildcats are led by senior linebacker Matt Brock, the team's top tackler last year with 89 stops.
"He is our rock in the middle," Grossner said of Brock. "We have some good leadership at linebacker."
Junior Ryder Werts (fifth on the team with 49 tackles in 2009) is sitting out this season to recover from shoulder surgery.
Another returner at linebacker is senior Calvin Pearce, who led the Wildcats with six forced fumbles a year ago.
Anchoring the defensive line will be senior Kyle Weinmaster, transfers James Guyton and Kyle Brown, Charleston Dela Cruz and Mark McDonald.
Senior Colton Miller and junior Madison Morris key Baker's secondary. Other defensive backs expected to see action are Chris McDaniel, Josh Fargate, Robert Woodall and Stephen Harper.