Baker alumnus returns to lead enrollment efforts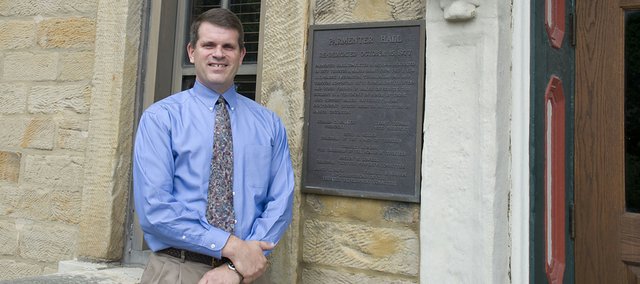 Twenty years after starting his career as an admission counselor at his alma mater, Mark Bandré is back at Baker University as vice president of enrollment management and student development.
Bandré, originally from Harrisonville, Mo., officially assumed his new duties on June 1. He will provide leadership for the areas of admissions, financial aid and student development.
"We will work to maintain appropriate average class sizes, make maximum use of the residence hall facilities in Baldwin City and classroom space on all campuses," said Bandre, a 1989 Baker graduate. "The most effective enrollment management programs literally include every member of the community."
Before returning to Baker, Bandré was the associate vice president for enrollment and director of financial aid at Hendrix College in Conway, Ark. He had been at Hendrix since August 2005 and oversaw all phases of the college's financial aid operation.
Bandré said it was vital to establish a plan and vision for all four Baker schools — the College of Arts and Sciences, School of Professional and Graduate Studies, School of Nursing and School of Education.
"Reaching a 'one-Baker' mindset across all phases of the University makes the most sense for Baker's future," Bandré said. "This position has a unique opportunity to help with reaching that vision. With all Baker people working together, including employees, current students, alumni and friends, we can collectively attract the appropriate type and number of future students who will succeed here."
Before joining Hendrix, Bandré was the associate director of financial aid at Ohio Wesleyan University and the director of student financial assistance at Tabor College.
Bandré has a master's degree from Friends University and is completing coursework on a Doctor of Education in higher education administration at George Fox University.
Bandre spent June realigning territories for admission counselors. He also has worked closely with Doug Barth, alumni director, on coordinating a plan to have alumni assist in the admission process.
"We are creating a form for alumni to let us know about their children and their neighbors," he said. "We welcome our alumni to help with our admission efforts."
Bandre's admission's team will work closely with student development to help ease the transition for the new students.
There were several successful orientation and enrollment days during the summer.
"I am excited about the energy student development brings to the event," he said.
His wife, Trish, also a Baker graduate, is an associate professor in the School of Education's graduate program.
"I feel I am able to better serve the university because of all of my experiences at the other universities," Bandre said. "Those years gave me a whole new world of knowledge."