Fields of gold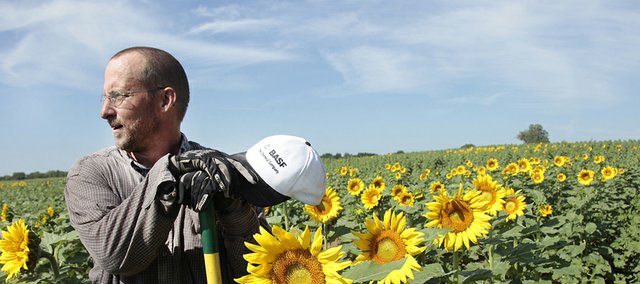 All that rain in late June may have soaked the soil, drowned 18 acres of just-germinated plants and forced the sowing of another 400,000 seeds between Lawrence and Tonganoxie.
Not that Ted Grinter's complaining.
"Now we'll have longer to take pictures," he said.
The farmer's two-stage plantings promise to deliver an extended period of blooming in his picturesque sunflower field at the intersection of U.S. Highway 24-40 and Stilwell Road in Leavenworth County.
It's been more than 35 years since his dad, Jim, started planting the state flower on the farm. Each year since, more and more people are drawn to the 40-acre patch that offers easy access, clean views and affordable features.
Grinter accepts donations, which can be left in a can perched atop a metal pole. Visitors can snip sunflowers for $1 per stem; taking photographs or just looking around is left up to personal preference.
"It's good fun," Grinter said. "It's my social outlet, to see people out on the farm."
Grinter figures that the annual photography season started Friday and will continue for two weeks, until the next — replanted — batch of sunflowers blooms and lasts for another two weeks.
After the first freeze, typically by Halloween, Grinter plans to harvest the field's 880,000 sunflowers. The seeds then are prepared for sale at Blackoil Sunflower Seed, at Lawrence Feed & Farm Supply, 545 Wis.
"The birds love 'em," said Roger Tuckel, the shop's owner.