Family celebrating 150 years of farming in Douglas County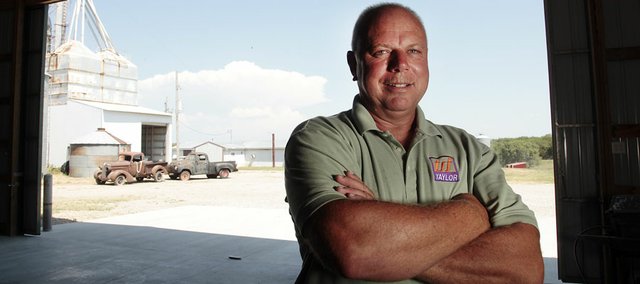 In 1860, Phillip Metsker and his two brothers transformed 240 acres of prairie grass into farmland.
Since then, the farm in southwest Douglas County has raised dairy cows, pigs, sheep and chickens.
Today, another Phillip Metsker, the settler's great-grandson, grows corn and soybeans while also working full-time as district manager for Taylor Seed Farms.
Over the years, the Metskers have changed what they raise and grow on the farm, but one thing remains constant:
"Still hard work," the present day Phillip Metsker said. "It is still hard to keep a farming operation going, because you have to work hard seven days a week, 24 hours a day, 365 days a year. You have to be on your toes all the time."
On Saturday, the Metskers are inviting the community to celebrate the family's 150 years of farming.
It is also a chance to pay tribute to the other longtime Douglas County families that have kept their farms operating for generations.
"We all came here at the same time and settled this area," Metsker said. "We were the first ones here. We came here before Kansas was a state. And that is quite an accomplishment. I want not just our family to recognize that. I want everybody else's family to recognize that."
While the Douglas County Farm Bureau has recognized several farms in that part of the county for being 100 years old, few have reached the 150-year mark, board member Ron Rice said.
For a family to hold onto a farm for four generations is an achievement, said Bill Wood, director of Douglas County's K-State Research and Extension office.
"First of all you have to be a pretty good farmer to pay it off and to be able to hand it down to the next generation," he said. "Then you have to have someone who wants to farm. Farming is hard work."
A changing landscape
The Metsker brothers arrived in Lawrence in 1858. The family had emigrated from Germany in the mid-1700s settling first in Pennsylvania and then moving to Indiana.
"The families were just huge — 10, 12, 13 kids in each family and they just ran out of land to buy. So they just kept moving further west," Metsker said.
He doesn't know why the brothers decided to settle in Douglas County.
"But they heard there was land available in Lawrence, Kansas, and that is where they headed. They came here in covered wagons."
At the time, the land was owned by two brothers who had received the property for their service in the U.S. military. The two had never stepped foot on it.
Negotiations between the two sets of brothers were carried out in letters, which explains why it took two years before the property was purchased. In the end, the Metskers bought the 240 acres for $1,200.
At first, the family lived in a log cabin. In 1869, a two-story house went up on the homestead. It still stands today as one of the oldest wood-framed buildings in Douglas County.
As the family grew, so did their land holdings.
"The old-timers at our church say that the southwest corner of Douglas County was all owned by Metskers at one time," Metsker said. "Back when they had all boys."
Today Phillip Metsker, one of five living siblings, is the only Metsker in Douglas County to farm.
From the beginning, the family milked cows. They also raised pigs and chickens along the way. When Phillip Metsker's dad, John, married Bettie-Lou Grant, sheep were added into the operation because Bettie-Lou liked them.
Phillip Metsker changed the farm from a dairy farm to a hog operation. He was the last commercial hog farmer in the county, Wood said.
When the price of pork started to nose-dive in the 1990s, Metsker became a seed dealer. The hogs are now gone but Metsker still sells seed.
"That's what I do and it pays the bills," he said. On the side, he grows corn and soybeans.
Another 150 years
As for the future, Metsker hopes the farming tradition will continue through his two nephews. His 30-year-old daughter, Jennifer Lee, also has an interest in farming and would like to see the land take a turn toward sustainable agriculture, organic crops and free-range livestock.
Lee has plans to restore the 1869 farm house that is now vacant, and her three children — the sixth generation of Metskers — raise their 4-H projects on the farm.
For Lee, Saturday will be a celebration of what has been and what will come.
"It will be interesting to see where we will be in another 150 years," she said.
Anniversary party
The Metskers invite the community to celebrate the farm's 150th anniversary at 5 p.m. Saturday at the Metsker Farm, 623 E. 800 Road. The celebration will include food, drink and pictures. The family asks that guests RSVP by calling Debbie Douglass-Metsker at 865-7211.